Rock Creek Ranch Park is located next to U.S. Army Corps of Engineers land at Benbrook Lake. Photo courtesy of Fort Worth Parks Department.
Dec. 23, 2021
The city of Fort Worth has purchased 275-plus acres for a new community park in southwest Fort Worth with a portion to remain natural.
Dubbed Rock Creek Ranch Park, the property is adjacent to the Rocky Creek Ranch development and U.S. Army Corps of Engineers land at Benbrook Lake. 
The park will become one of the largest park's in the city's park system, with the only larger parks being Gateway Park, a 635-acre park with community amenities such as sports fields, hiking trails and a dog park, and the Fort Worth Nature Center, a 3,600-acre wildlife refuge.
The acreage was originally a cattle ranch established in 1848. 
"These opportunities to get this size of land anymore — it just doesn't happen every day," said David Creek, assistant director for the Fort Worth Park and Recreation Department.
Creek, who is a registered landscape architect, said the property features a diverse topography, with creeks, elevation changes and a rich biodiversity. 
"I've been doing this for a number of years now and this property really excited me. If you're a kid, you can imagine running around just like it was a 100 years ago. On my last tour of the property we saw a deer running around. That's not something residents can go out and see everyday."
Rock Creek Ranch Park was acquired for $6.75 million using Community Park Fees, 2018 park land acquisition bond funds and Open Space funds.
Park development and land uses will be determined by a master plan process. At least forty acres will be preserved as part of the Open Space Conservation Program. That number was derived based on the proportion of funds that came from Open Space funds, according to Creek.
However, Creek predicts that more than 40 acres will be allowed to remain natural area for passive recreation.
"The parks department is not interested in acquiring a piece of property and bulldozing all 275 acres. It's not good land management. That's just not what this property is."
However, because 3.8 million came from park dedication fees, he says there will likely be some traditional amenities. He compares it to Chisholm Trail Park, which features a community center, soccer fields, playground and skate park as well as a preserved prairie parcel.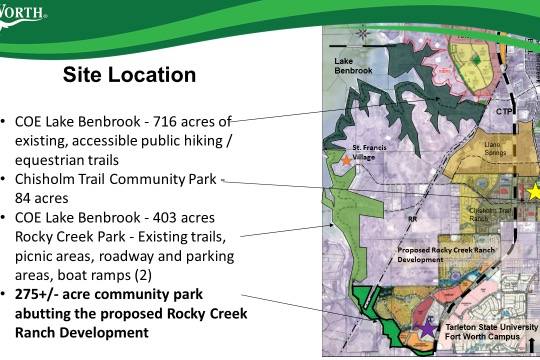 City map shows the location of Rock Creek Ranch Park. Courtesy of city of Fort Worth.
"We're going to want to understand the floodplain impact, various soil structures and the topography," he said. "You don't want to put a soccer field on the side of a hill or build a structure on erosive soil. All that goes into creating a good master plan."
Creek said the public will be able offer their input during the planning process, but development might not start until the 2026 bond program.
"The important thing for us, is aquiring the land," he said. "If we had waited for development to get there, we couldn't afford the property."
Another value of the property is its location and potential to connect to Corps of Engineers land at Benbrook Lake and eventually north to Pecan Valley Park and the Trinity Trail system
"We're going to go in there and make a real unique park," said Creek. "I think you're really going to be able to connect with nature on an urban level."
The public can direct their comments to Lori Gordon, Planning Manager for the City of Fort Worth Park and Recreation Department: Lori.Gordon@fortworthtexas.gov.
RELATED ARTICLES
New land acquired by Fort Worth Nature Center will serve as buffer
DeSoto nature preserve pays tribute to Stevie Ray Vaughan
Fort Worth to preserve 'open space' in city limits
Chisholm Trail Park preserves Fort Worth prairie parcel
Fort Worth Nature Center offers window into region's wild past
---
Stay up to date on everything green in North Texas, including the latest news and events! Sign up for the weekly Green Source DFW Newsletter! Follow us on Facebook and Twitter. Also check out our new podcast The Texas Green Report, available on your favorite podcast app.