The Dallas chapter of Code Pink was one of a dozen regional organizations represented at last week's #ExxonKnew rally. Photos courtesy of Linda Cooke.
May 30, 2016
On Wednesday, North Texans rallied outside ExxonMobil's annual shareholder meeting in downtown Dallas while inside shareholders' efforts to hold Exxon accountable for its role in climate change made small progress – one resolution won, of 9.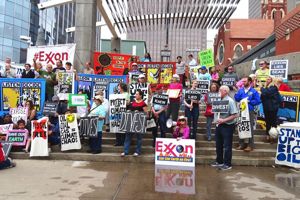 The rally, part of a national #ExxonKnew campaign, called out the world's largest publicly-held fossil fuel company for apparent deception of shareholders and the public. For once, a local grassroots demonstration got a lot of press and North Texas activists were ready for their closeup. The protest was colorful, noisy, informative – and chilling. (See pic of melting ice sculpture below.)
Meanwhile, the national #ExxonKnew campaign, of which it was a part, continues. So do active investigations by five states and an alliance of 17 states' attorneys generals. 
Here's a quick recap of news from behind closed doors at the Exxon annual meeting, and news of Texas consequences of climate change, from survivors who spoke at the rally. 
Insiders and Outsiders Pushback
At the Meyerson Symphony Center, shareholders tried for the 20th time to raise enough votes to impel Exxon to take action/share info on the financial and environmental risks of its oil and gas operations. The one shareholder climate resolution that passed would allow the nomination of long-term, large stockholders — who could potentially include climate activists –to the corporate board. Royal Dutch Shell and BP recently adopted similar provisions. Two other climate-related resolutions won votes in the 30 to 40 percent range, a level that ethical investment advisors consider a strong message to management. But CEO Rex Tillerson publicly declined to listen.
Across the street, about 100 environmental activists rallied, hoping to influence Exxon investors to shed their shares. They railed against the company's 25-year disinformation campaign that gave the lie to its own research findings that fossil fuels feed climate change — "robbing humanity of a generation's worth of time to reverse climate change," in the words of #ExxonKnew organizers 350.org.  
A melting ice sculpture provided a clever visual to the rally.
Dozens of news reporters and photographers turned out before the Exxon meeting, in time to cover the rally, attention that North Texas activists seldom get. National Public Radio, Forbes, The Guardian, Washington Post and The New York Times were among those who got video and comment from members of more than a dozen regional green groups. 
Arriving shareholders found their parking garage entrances flanked with people chanting and waving signs reading "Exxon Lied" and "Keep it in the Ground!" 
Demonstrators massed on the terrace steps of Cathedral Santuario de Guadalupe opposite the Meyerson, lofting bright banners and chanting and singing. Speakers on national fossil fuel issues were followed by personal accounts from those who've lived through climate-driven catastrophic flooding and petroleum refinery pollution and in environmental ghettos.   
Anna Kalinsky, granddaughter of Exxon climate scientist, said that Exxon has lost scientific integrity.
R. L. Miller of Climate Hawks Vote announced that her group is among the first to introduce a bill to investigate Exxon, that is now in the California State Assembly. The group's mission is "to elect climate hawk leaders – those who prioritize and speak on the climate crisis," through its PAC and education efforts, such as a Senate Scorecard that ranks Democratic senators on their climate action records.  
Molly Rooke of Dallas Sierra Club, the rally's lead organizer, told the throng that over the 15 annual ExxonMobil shareholder meetings she has followed, little has changed.  
"Their statements have shifted only slightly…They still keep a note of doubt [about fossil fuels' role in climate change]." 
Rooke reported that "good people inside" are working on shareholder engagement, but added that it's an uphill battle.
"Their resolutions won't work fast enough. It's like rearranging deck chairs on the Titanic. Sixty-two shareholder resolutions have failed." 
An investment advisor, attesting to having earned millions of dollars in fossil fuels, declared that he no longer sells oil and gas stocks. He advised the crowd to examine their mutual funds, specifically the sector allocations.  
"If a large portion is in fossil fuels, SELL that mutual fund – including natural gas. Invest in solar, wind mutual funds – they're out there."
Wimberley, Texas resident Renée Boschert told what it was like to see the Blanco River carrying her home and her neighbors' homes away in the flash floods of spring 2015's freak rainstorms. These and other extreme weather events in Texas match regional and international climate scientists' predictions that warming seas would intensify  weather and increase catastrophes.  
Cherelle Blazer, Sierra Club Texas' Beyond Coal director, spoke of growing up in "Cancer Alley," the Gulf Coast petroleum refinery belt that runs from northeast Texas to New Orleans. Blazer briefly read the names of family and friends who died from chemical exposure. She noted abandoned towns where illnesses and death forced refinery companies to buy out residents and evacuate them.   
Tom "Smitty" Smith, Texas director of consumer advocacy group Public Citizen, continued Blazer's theme.  
"What about ocean rise from climate change for refinery towns on the coast? What's going to happen to places like Baytown, Texas…and the people who live by the refineries, when the rising sea breaks the pipelines and tanks get washed off their moorings?...We need to fight on multiple levels to change corporate policy."
Speakers included Herb Kenner of Communication Workers of America and concluded with Gary Stuard of System Change Not Climate Change who urged the audience to act.
"We need an economic system that values all people! Address environmental injustice. Find an organization you can support!"
Three hundred petitions were collected, appealing to Exxon to sever its relationship with ALEC, the American Legislative Exchange Council, an active and powerful industry lobby group noted for climate change denial.
As widely reported later that day, the shareholder resolutions came to, pretty much, zilch. Grist noted the presence of "the largest coalition of climate-activist investors yet of two-dozen large shareholders representing $8 trillion under management." Yet the best outcome they achieved was the hope that the one winning resolution could someday, theoretically, put a climate activist on the board of directors.  
Texas Attorney General Ken Paxton responded to petitions to investigate ExxonMobil by announcing he'd become a party to intervene in those investigations.
The road goes on, the party has yet to end.    
RELATED ARTICLES
North Texans Rally for Exxon Investigation and Divestment - Green Source DFW
Here's why protesters at Exxon shareholder meeting say they came out - Dallas Morning News
Climate resolutions fall short at ExxonMobile's annual meeting - Washington Post
Climate Change Activists Either Prod Exxon Mobil or Dump It - New York Times
Exxon Mobile's shareholders meeting was totally overrun by climate demands - Grist
---
Sign up for the weekly Green Source DFW Newsletter to stay up to date on everything green in North Texas, the latest news and events. Follow us on Facebook, Twitter and Pinterest.