Zac Trahan, director of Texas Campaign for the Environment's Dallas office, and Jim Schermbeck, director of Downwinders at Risk, celebrate after the Dallas City Council passed the gas drilling ordinance on Wednesday. Photos by Phillip Shinoda.
Dec. 12, 2013
Christmas came early for environmentalists this year when the Dallas City Council passed one of the strictest ordinances in North Texas on Wednesday, following two years of debate.
The ordinance, which passed 9-6, includes one requirement that activists were especially keen on -- a 1,500-foot setback from homes, businesses and schools, with two-thirds council approval needed to reduce it to 1,000 feet. That's more than twice the length that Fort Worth requires, with its 600-foot setback. Councilman Lee Kleinman, who was among the six who opposed the ordinance, said the strict setback effectively bans gas drilling in Dallas.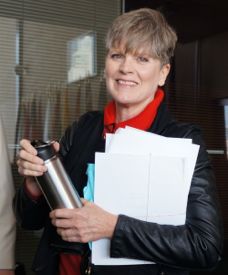 Going into Wednesday's Dallas City Council meeting, environmentalists had been tipped off that they had the votes to pass the ordinance. Still they weren't taking any chances. Fifteen speakers made their final plea to council, including longtime activist Sharon Wilson, aka Texas Sharon, who said she'd been personally affected by gas drilling as a property owner. 
"This is why industry can say there's no documented proof that gas drilling is unsafe," said Wilson, holding up a 2-inch thick stack of papers, which she said was a nondisclosure agreement signed by a landowner who found fracking chemicals in his water.
Sharon Wilson spoke on Wednesday.
Zac Trahan, director of Texas Campaign for the Environment's Dallas office, said TCE's canvassers were knocking on doors gathering letters from supporters up until the day of the vote. 
Jim Schermbeck, director of Downwinders at Risk, said there's no question activists played a role in the victory. 
"We raised the political profile of the environmental movement in the city. Last year, they thought they could ignore a group of this size. Now I don't think that's the case."
Claudia Meyer, a homeowner turned activist who's been fighting gas drilling
for four years since she learned gas drilling was coming to her neighborhood, admitted she was stunned by the outcome. She said given this win, the coalition may be ready to take on others issues, such as the single use plastic bag ban.
"I think we feel strong in numbers. We really forged a strong alliance."
 
Ed and Claudia Meyer say they're ready to take on other issues.
---
Sign up for the weekly Green Source DFW Newsletter to stay up to date on everything green in North Texas, the latest news and events. Follow us on Facebook, Twitter and Pinterest.