By Phillip Shinoda   
Last Sunday, about 30 supporters were prepared to block the trucks spraying for mosquitos at Eden's Organic Garden Center and CSA Farm in Balch Springs. But instead of a demonstration, there was a celebration. 
It all started on Saturday morning. The story is best told by the emails that Marie Tedei, owner/manager of Eden's Organic Garden Center and CSA Farm, sent to Dallas County and Balch Springs officials:
Saturday June 22, 2013 7:10 AM   
"Saturday, I was just notified by a neighbor that she saw a sign about [ground] spraying [for mosquitoes] in Balch Springs tomorrow [Sunday,June 23] night. I haven't seen any signs myself, but I wanted to call your attention to the one mile buffer zone that we had in the past, except for the unfortunate situation that occurred last year with contract spray crews that did not shut off the trucks double sprayed the 2 dead end streets adjacent to my farm. We lost 90% of our [Texas Honey Bee Guild bees] colonies this past winter – even having covered the hives – due to the drift and residual of the chemical on our plants where our bees feed." (Photo: Jackson, Miss.) 
Saturday, June 22, 2013 8:54 AM   
To Dallas County Officials
"I just received a call from the spraying contractor regarding tomorrow, thank you, however, he sent me the spray map and it shows that you are spraying as close to the farm as less than ONE block away."
Saturday June 22, 2013 7:34 PM
To Balch Springs officials
"I have just been notified that my farm's previous NO SPRAY protection zone is NOT on the map for the contracted ground fogging scheduled for tomorrow night."
Sunday June 23, 2013 7:31 AM  
To Dallas County Officials and Contract Spraying Company
"… I've not heard from anyone regarding my request for the no spray zone for tomorrow night to protect the farm's perimeter."
And then:
Sunday June 23, 2013 9:43 AM  
To: Long list of County and Balch Springs officials and Eden's Farm supporters
"On behalf of myself, all of our customers, CSA farm members and visitors, the wildlife here in the open prairie areas of the land and our struggling honeybees – THANK YOU. I will look forward to call from the spraying contractor to confirm and verify the no-spray area.      
"I will be looking for the informational handouts to have at my markets, and I also look forward to seeing more outreach to the community regarding prevention and help with dunks and education. You have help out here in the neighborhoods if you'll empower us to do something."
Finally, this post on Eden Organic's Facebook page appeared:
Sunday, 5:09 p.m.
"Just for the record - the county has issued an altered map with the buffer zone to help protect the farm and the Texas Honeybee Guild's bees. Chalk one up for the little guys. :) "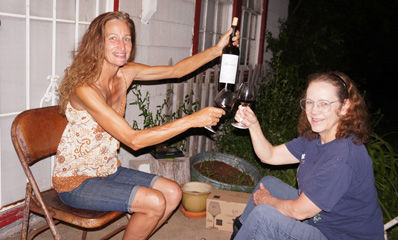 (Photo: Marie Tedei and supporter Helen drink some Calais wine in a victory toast Sunday night. Green Source DFW.)
Organic Today - For a Better Tomorrow!
Home of DFW's first All-Clean, Real Food, Real Farmer's Market Day!
Eden's Organic Garden Center/CSA Farm
4710 Pioneer Rd., Balch Springs, TX 75180
(1 block north I20 @ Seagoville Rd.)
214-348-3336
SHOP / MARKET   Open 1st & 3rd Saturdays only  April - December
Follow Eden's on Facebook, Twitter and their Blog pages where you can keep up with Life on the Farm. 
---
Sign up for the weekly Green Source DFW Newsletter to stay up to date on everything green in North Texas, the latest news and events.
Phillip Shinoda is editor of Green Source DFW.  He can be contacted at phillip@greensourcedfw.org