July 7, 2011   
Using a recent trip to Asia as the backdrop for their latest work, artists Hugo Garcia Urrutia and Dallas native MK Semos are taking a new angle with their green inspired creations. Focusing on material from a three-week trek across Asia, the co-creators of the "Wooden Postcards" series uses photos taken with Semos' Holga camera, transposed onto pieces of reclaimed materials such as hardwood floors and old car windshields.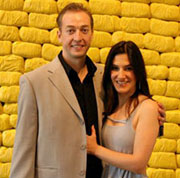 Garcia Urrutia actually takes Semos' photographs to the next level for the postcard series by experimenting with different unorthodox substrates and photographic finishes. The recycled hardwood floor is also evocative of the high volume imagery that the viewer can see in the artwork itself, reminding one of the concentrated effort of foot-traffic associated with the worn footprint that we all leave behind.

"The hardwood flooring mimics the silhouettes of the skyscrapers in the images and adds a fantastic geometric shadow glow around the piece," says Garcia Urrutia. "Viewers can experience the grains and the colors of the wood as part of the image composition."
Garcia Urrutia also adds that creating photographic sculptures in addition to two-dimensional artwork provides a new facet of motion for the viewer as well as adding a component of surprise for him and Semos as the art creators too.


Working primarily in recycled substrates and materials in all their work, Garcia Urrutia and Semos continue to find the delicate eco-friendly balance that unifies image and form along with celebrating Western world capitals, particularly in their latest body of work offering visual interpretations of urban landscapes. The Wooden Postcards, in fact, come alive full of nostalgia, decay and charm with scenes from New York City, London, Mexico City, and other cities around the globe – serving as places of inner experience as well as urban sprawl displayed within the scenes.  

"Like a web slowly forming, these special hubs of the world act as melting pots, cradling vast amounts of cultures and ideas - live organisms that become cultural icons themselves," he adds.
Garcia Urrutia says he enjoys working with wood adding "Reclaimed wooden floorboards are good quality wood. It gives you a warm feeling and you can commune between the lines of the grains and knots. The images are finished with a lacquer for an increase in fade resistance. We really like the warmth of the images on wood. The color of wood always changes, depending on the effect of lighting."


Semos began printing on traditional photographic papers back when she was in a darkroom with chemicals printing for herself also utilizing acrylic, plastics and lexan. "A short few years ago," she explains "there was a sharp rise in the price of petroleum, so we thought it was a good time to begin experimentation with other substrates. Vintage glass from old car windshields still remains one of my favorites, however Hugo's love for woodworking and unusual finishes led us to using many different types of wood. We find it's not only one of the most durable and unique materials for artistic work, it also has an organic quality that I think people can immediately relate to, and imagine in their homes and personal surroundings."

While Semos and Garcia Urrutia have been working together on joint projects since 2005, their individual backgrounds are riddled with accolades, awards, grants and plenty of exhibits and solo shows. A Greek-American, Semos left her hometown of Dallas to attend the University of Texas at Austin where she earned a dual bachelor's degree in photojournalism and photo illustration. She briefly returned to Dallas after college before moving to New York City, where she began using a Holga camera, becoming enamored by the often surreal images and poignant colors produced by the plastic lens of the toy camera.

Before meeting Semos during an art-instillation partnership for the Rosemont Primary School in Dallas, Garcia Urrutia studied architecture and design specialty at Texas Tech University. He uses his academic background to create keen architectural focus points in his work and often pays homage to his Mexican heritage. Garcia Urrutia has received recognition in numerous shows, including an honorable mention at the National Urban Poetry I Competition.

In 2004, Garcia Urrutia opened DECORAZON art gallery in Dallas and brought on Semos in 2005 as co-owner and operator. For more information on DECORAZON visit www.decorazongallery.com.
Contact Rita Cook  rcook13@earthlink.net

© Memnosyne Foundation