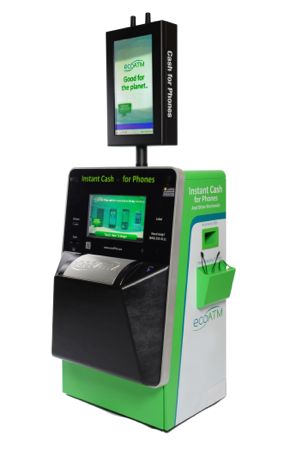 There are 32 eco-ATM kiosks in Dallas-Fort Worth that provide cash to users for cell phones, MP3 players and tablets, which are then recycled.
Photos courtesy of ecoATM. 
June 3, 2014
By Rita Cook 
For all those old cell phones, MP3 players and tablets that you aren't sure how to get rid of, a company founded in San Diego in 2008 called ecoATM offers a way to recycle responsibly and make some pocket change at the same time.
Entrepreneur Mark Bowles developed the idea after discovering that only about three percent of all cell phones are recycled, according to a statistic released by Nokia. 
"This was in a year when there were millions of phones on the market, and projections mentioned billions more were to enter," says ecoATM spokesperson Amy Rice. "Mark knew that this was a growing problem and one that he felt passionate about solving."
In researching solutions, Bowles asked himself why he, and others, don't recycle and discovered three major barriers to entry: lack of awareness, lack of incentive and lack of convenience.
"While setting about solving those obstacles, the idea of a reverse vending machine, located in malls and other well-trafficked locations that provided consumers with cash came to fruition," said Rice. 
Today, with 900 ecoATM kiosks located in malls and select Walmarts throughout the United States, there are currently 32 machines in the greater Dallas Fort-Worth area.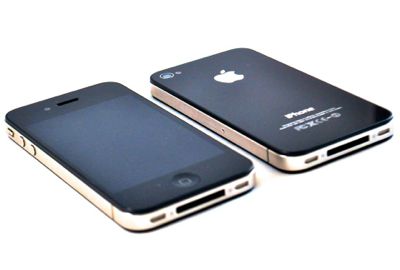 "It has been very popular in Texas," says Rice. "Between September 2012 and August 2013 alone, ecoATM collected more than 190,000 devices in Texas and paid out more than $3.6 million in cash. The top recycled devices were the Motorola RAZR V3, Kyocera MELO/JAX S1300 and the Blackberry CURVE 8330. The top reused devices were the iPhone 4 8GB and iPhone 4s 16GB."
As for the locations in Dallas-Fort Worth, these include Walmarts in Frisco, Plano, McKinney, Allen, Fort Worth and Arlington, as well as several local malls, including Town East Mall in Mesquite, Collin Creek Mall in Plano, Irving Mall and Hulen and Ridgmar Malls in Fort Worth. 
"Americans buy over 150 million new phones per year and growing," Rice says. "The majority of consumer electronics contain toxic materials such as lead, arsenic and a variety of other materials that pose an extreme threat to the environment and human health. The first and best thing we can do is to extend the life of existing devices so that there is a lesser need to build new devices. The next best thing we can do is to responsibly reclaim materials from devices that are truly end-of-life."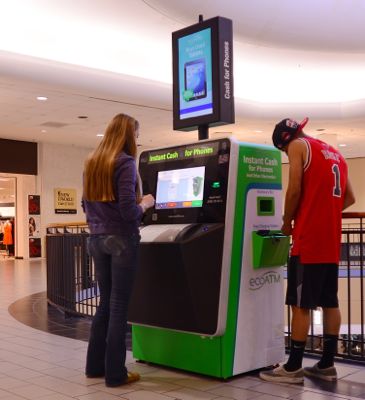 The company partners with various e-waste reclamation facilities throughout the country to ensure the materials, particularly the precious metals, are reclaimed and reused in place of mining new materials and precious metals from the Earth when not recycled into a new device.  
As for how it works, ecoATM kiosks use artificial intelligence and machine vision to identify and evaluate more than 4,000 different electronic devices.
When deposited into an ecoATM kiosk, the device is plugged in and scanned for type, serial number and condition. To ensure a compliant and valid sale, the seller must show a valid I.D. and provide a thumbprint and a signature agreeing that the phone is his or her property. Cameras, monitored by live attendees at the ecoATM headquarters, match the sellers to their I.D. before cash is dispensed.
All transactions and personal information are reported daily to local police, ensuring compliance above and beyond Texas' second-hand dealer laws and in turn working directly with local law enforcement to identify and catch those attempting to sell stolen goods. 
According to Rice, a consumer can earn anywhere from $1 to $250 per device, depending on the model, condition and market value of the gadget. EcoATM finds a second life for about 75 percent of the devices it collects and recycles.
"Some phones have no value and cracked screens or missing buttons will drive down a phone's value while newer models will drive it up. However, we make sure that all phones are responsibly recycled." 
While some have heralded the technology, critics point out that the kiosks have contributed to increased robberies of cell phone and other devises in exchange for quick cash in some communities.
Rice admitted there are some dishonest people who may try to exploit any system, but ecoATM is committed to establishing lasting and collaborative relations with our law enforcement associates. 
"We have designed the kiosk to be easy and efficient for use by consumers but behind the scenes is state-of-the-art technology that includes patented, advanced machine vision, electronic diagnostics and artificial intelligence. Moreover, the kiosk is composed of extensive security features and processes."
---
Rita Cook is an award-winning journalist who writes or has written for the Dallas Morning News, Focus Daily News, Waxahachie Daily Light, Dreamscapes Travel Magazine, Porthole, Core Media, Fort Worth Star Telegram and many other publications in Los Angeles, Dallas and Chicago. With five books published, her latest release is "A Brief History of Fort Worth" published by History Press. Contact her at rcook13@earthlink.net.
Sign up for the weekly Green Source DFW Newsletter to stay up to date on everything green in North Texas, the latest news and events.