Amy Martin, third from right, tells what it was like to watch​ the total solar eclipse in northwestern Nebraska with 7,000 other nature enthusiasts. Photos courtesy of Amy Martin. 
Aug. 31, 2017
It was a lark of an idea over dinner with my husband and our friends Tex and Dianne Frossard – Let's go see the total solar eclipse. We decide on the northwestern panhandle of Nebraska since it boasts the least chance of clouds and a relatively long totality time. The eroded, rocky windswept buttes promise to be a dramatic backdrop and afford a clear view of totality's approach. It became the trip of a lifetime. 
PRE-ECLIPSE PREP
Monday, Aug. 21, Agate Fossil Beds National Monument, near Harrison, Nebraska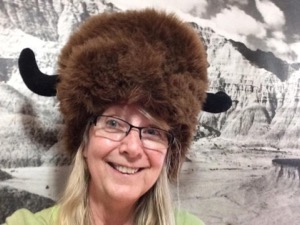 5:50 a.m.: Mule deer and wild turkeys wander outside Foster's Schoolhouse, a funky little early 1900s cabin south of Crawford. Dianne miraculously found it. Even searching a year prior to the eclipse, most lodging was booked. Located in the Pine Ridge – a dramatic arc of pine-covered craggy uplift rising from the plains – our hosts, Tom and Carol Foster, are so charming we want to adopt them. Coffee in hand, we head on our way to Agate Fossil Beds National Monument, 80 minutes away, because there are evidently no short drives in Nebraska.
Amy Martin goes native in a park gift store.
6:30 a.m.: We turn south onto NE 71 at the town of Harrison, population 250. The volunteer fire department hawks roadside coffee for sleep-deprived travelers. A breakfast diner tent is up and at 'em. Life in western Nebraska, surviving on 10 inches of rain a year, is tough. The eclipse has been a huge, deeply appreciated boon. All the tiny towns are dressed in their best. Alas, the "I blacked out in Crawford" T-shirts were all sold out.  
6:50 am: We zoom along NE 71, heartened that the traffic is not too thick. Dubbed the Fossil Freeway, NE 71 spans from Agate Fossil Beds north to the Black Hills of South Dakota, linking several paleontology sites. A shallow ancient marshy sea spanning from the Midwest to the Rocky Mountains eroded over millions of years to expose fossils, preserved by the arid weather. Striated badlands and prairie grasses barely top two-feet high, punctuated by abrupt rocky rises and broad eroded valleys. It is a geology nerd paradise.
7:10 a.m.: Cars stream into Agate Fossil Beds from all directions. Within a couple hours, nearly 7,000 of us will be here. You have to be a dedicated eclipse aficionado to trek this far to such an inhospitable place! Prickly pear cactus lurk hidden in the dry grasses. The Sun is overbearing; its blaze fills the sky. If the rattlesnakes don't kill you, a slide down the rock-strewn slope of a steep bluff will. 
7:10 a.m.: Park rangers waive the entrance fees and hand out eclipse glasses at the gate. As their reputation claims, Nebraska is nice! 
CLAIMING OUR SPACE 
Green Source DFW columnist Amy Martin, third from left, with her husband Scooter Smith, right, and friends Tex Frossard and Dianne Frossard, wait for the eclipse atop a butte at Agate Fossil Beds National Monument in Nebraska.
7:20 a.m.: The parking lot, already almost full, is like a Grateful Dead concert – we dub it Eclipsestock. People gather around in campchairs and delight in tailgate picnics. Someone plays a ukulele; dogs are everywhere. Instead of "Onward through the fog" bumper stickers, they're all about astronomy, nature and human potential – hopeful people sharing the same passion. Kids run around with an app that tracks license plate states – 45 different ones are counted, plus Canada. Foreign accents are plentiful. The opening line is "Where did you come from?"
Someone plays a ukulele; dogs are everywhere. Instead of "Onward through the fog" bumper stickers, they're all about astronomy, nature and human potential...
7:50 a.m.: Surveying the park, we select a high, wide butte and head off through the desert, hoping no rattlers and scorpions find us. Once to the butte, the vertical scramble is gasp inducing. Grateful that 99.9 percent of the people at Agate were just too spooked of sharp and poisonous things to try it. It's also insanely windy up here. 
8:30 a.m.: We are joined on the butte by Michelle and Joe from Minnesota, and Kevin all the way from Manitoba with Penny, his petit basset griffon vendéen, or PBGV—a true adventure scamp of a dog. The mom of a Florida astronomy family comes and takes our picture. Scooter goes over and takes theirs. With their matching T-shirts and shades, they look like DEVO. 
"That's our holiday photo!" the mom exclaims. 
Our topside crowd is top-notch community. Soon all the buttes around us have their encampments. 
9 a.m.: We settle in for the hour wait until the eclipse process begins. Snacks and beverages all around. Tex shares messages from his app that gives us a countdown to totality. From our high spot we can see cars on NE 71 continuing to flow in. Many of us wander the butte and exchange stories about where we came from and what drew us here. 
9:25 a.m.: Cars trickle in from NE 71. Down in the valley, the visitor center parking lot and overflow are full. Cars park along the long entrance road, miles from the visitor center. The valley portion of the paved Fossil Trail is crammed with people. The rest scatter through the grounds in chairs and blankets. Just one more hour of waiting.
9:45 a.m.: Knowledge is a marvelous thing, to know what's coming while nothing else in nature around you does. Time is all around us, millions of years exposed in the erosion – permanence and triumph of any kind is an illusion. The feng shui of the Earth, the wind and water of erosion, grinds down the seemingly unchangeable buttes into fine rubble that fills the valleys. Someday all this will be level and the process begins again. 
10:10 a.m.: We notice a herd of black Angus cows a few hundred yards away and wonder how they will react. Penny sees them, too, and off she goes, dragging Kevin's pack. He takes off after her. 
TOTALITY APPROACHES 
Looking west, the path of totality – nearly 70 miles wide – looks like massive storm on the horizon, capped by a 360-degree sunset glow. Video by Scooter Smith.
10:17 a.m.: 90 minutes to totality. The partial phases of the eclipse begins. We don our eclipse glasses to see a curved slice missing from the upper right of the Sun. We take brief glimpses throughout the next hour; most eclipse glasses can only last a few minutes of use before the lenses degrade. Kevin detects that his phone is missing. He scours Penny's escape route and somehow retrieves it. 
The total solar eclipse started at 10:25 a.m. and ended 1:14 MDT with totality occuring for 2 minutes, 23 seconds at 11:47:00 to a.m. to 11:49:23.
11 a.m.: 47 minutes to totality. Modern science lures us here, able to predict with exquisite precision the time and place of totality. Yet the anti hubris surrounds us, history painted in rock encapsulated many millions of years in a swath. So in-your-face that it's impossible to deny our existence is but a razor thin slice of the time pie. Witnessing the eclipse here contrasts ancient fossil-filled rock with astronomical advancements.  
11:11 a.m.: 36 minutes to totality. The entire valley is a hushed, multi-hued mass of humans by the thousands. Hundreds more perch on the buttes and its slopes. The dark area of the solar face is a fat crescent. The black cows, once diffuse, drift toward each other, just as they would do at night.  
11:17 a.m.: 30 minutes to totality. The dark area of the solar face is wide like a quarter Moon, but the edge is curved. The first glimmers of eclipse twilight set in. A slight coolness subdues the mid-day heat. The wind, once a steady 25 mph, shifts to gusty. We Texans don jackets; our cold-clime friends do not. 
11:32 a.m.: 15 minutes to totality. The silvery sheen of the sunlight makes us giddy. It is slightly polarizing and casts us in a surreal timelessness. An argent glow appears to rise from the valley; the butte tops shimmer with a stippled light. We use aids to project crescent shadows onto the pale rocky soil. The butte-top crowd is nerdy enough to know about the totality shadow coming from the west and we shift from watching the Sun to awaiting the shadow's approach. 
11:37 a.m.: 10 minutes to totality. Slow-motion twilight deepens. Penny grows pensive, nestles close to Kevin. Cows bunch together in a wide ravine. The chill deepens. 
11:39 a.m.: 8 minutes to totality. The gusty wind suddenly stills by half. The apparent haze thickens to deep selene tones. Shadows diffuse into the ground; there are no hard lines anywhere.
11:42 a.m.: 5 minutes to totality. The light polarizes in gentle hues from silver grey to light blue. Deepening twilight envelopes us on the butte top, the valley seems in shadow. Anticipation infuses everything. It is whisper quiet. Everyone is on their feet. The solar face is near complete darkness. 
11:45 a.m.: 2 minutes to totality. All on the butte top face the west. The path of totality – nearly 70 miles wide – looks like a massive ominous storm on the horizon. A 360-degree sunset glow wavering in shades of red, orange and purple is gasp-inducing. We hear the far-off roar of two planes chasing the Moon's shadow as it races toward us.
11:46 a.m.: 1 minute to totality. Bugs grow quiet; surroundings lose color. The Moon shadow approaches at over 1,500 mph and surrounds us like an intangible black cloud. We submit to the celestial storm. 
TOTALITY
Total solar eclipse in Beatrice, Neb. Aug. 21, 2017. Courtesy of Global News.
As it races across the Earth at over 1,500 mph, the Moon shadow subsumes us in darkness. Eclipse glasses are cast aside. The corona's feathery ring of light pops into view. Golden wisps extend to the darkening sky. We barely glimpse a few flaring prominences, perhaps the Bailey's Beads of sunlight slipping through canyons on the Moon, or is it the star Regulus conjunct with the Sun that we see? 
The planets pop out tracing the ecliptic, so much more clear than when the stars are visible. There's faint Mercury, only seen three other times in my life. Jupiter and Venus so very bright. Mars a bit dim and hugging the Sun. 
Submitting to the total solar eclipse is a spiritual act. The rising ecstasy, the radiant awe, the profound sureness and acceptance of our place in a universe of circles inside spirals inside spirals in the sky. We scream and weep and experience what it is to be human caught in a cosmic matrix, to know awe as no other creature can. Astonished roars and cascades of soul-deep belly laughter rise from the butte tops and valley below. All I can do is cry.   
Submitting to the total solar eclipse is a spiritual act. The rising ecstasy, the radiant awe, the profound sureness and acceptance of our place in a universe of circles inside spirals inside spirals in the sky.
There is darkness where a star should be, a hole in the sky. The eclipsed solar face beckons as a portal to the infinite unknown. The embodiment of wu wei – pure potential. A reminder that most of the cosmos is dark matter, that we arise from the darkness of the womb and to the universal darkness we return. There is comfort and restoration in darkness.
I want it to go on forever, this point of time suspended between worlds, set in an amorphous surreality. Weeping overcomes me. I see you, my Moon, revealing your darkness to me. You who taught me to persist through a childhood at times shot through with terror. Your changing phases show that no matter how dark life can be there is always renewal.
There in her darkness, the total solar eclipse is the only time the New Moon is visible, passing through her trial by fire. In tomorrow's evening sunset sky, she'll emerge as a whisper thin crescent of hope, following the Sun into the horizon, drawing away 17 degrees every day until opposite the Sun as a Full Moon.
In this deep twilight, I accept the hubris of my humanity. Submission to the eclipse is a spiritual initiation. As the lunar face occults the Sun's, the desire to grasp and possess departs my soul, perhaps forever. 
Then a light as brilliant as anything I've ever seen, an explosion of platinum, flares at the upper right of the solar face. The Moon starts to slip away after the fastest two and a half minutes of my life.
AFTERGLOW
Amy Martin reacts to the total solar eclipse at Agate Fossil Beds National Monument, near Harrison, Nebraska Aug. 21, 2017. Video by Scooter Smith.
Our butte-top community chatters like mad. Some still laughing, others silently overcome, I am both. Happiness radiates from us as if we're all celestial bodies. We rest in the satisfaction that comes only with profound connection, to the universe and those around us. A euphoric experience. 
We resume our eclipse glasses to see the barest slip of light manifesting, and watch as the crescent swells. The pewter haze rises from the valley. Silvery polarizing light lifts us with the energy of releasing joy. 
Within minutes, people start to pick up and leave. They traveled so far and a workday looms tomorrow. Our butte pals depart, hugs all around and promises to exchange pictures. A family passes us on its way down butte with three children under the age of seven. Fun to imagine how this event affects them in the future.    
Watching ebullient people coming down from the plateaus evokes ancient rituals atop mountains, pyramids and mounds. We upward-standing mammals have a timeless need to climb closer to the divine, reaching for infinity while connecting to the Earth. What must this event have meant to them eons ago?
We choose to soak it all in and watch the Sun materialize halfway before heading down. Two young women stand in the impromptu path made by topside seekers, staring into the desert. 
"Watch out for the rattlesnake," they say, as it slithers into a clump of grey woody plants. 
We take their advice. 
Back to Eclipsestock in the overflowing parking lot, we take lunch at our car. Eclipsestock is a jerk-free zone, the terrific camaraderie of excited to be here, all one in wonder. For a few hours we leave behind the hubris of politics, the maya that mires our lives. 
Eclipsestock is a jerk-free zone, the terrific camaraderie of excited to be here, all one in wonder. For a few hours we leave behind the hubris of politics, the maya that mires our lives.
Many hundreds stream into the Agate Fossil Beds visitor center to form an elbow-to-elbow crowd. Optimistic displays inform on the epic history and geologic wonders and the rancher, James Cook, who grasped its worth and insisted the U.S. government preserve it. Sad displays illustrate Cook's desperate attempts to preserve the Sioux culture from the government's cruel war upon the tribes. A young man shakes his head: "I had no idea. I had no idea."
Agate Fossil Beds aces the challenge, hosting starwatching parties and astronomy lectures, Native American sharing by Kelly Looking Horse, even yoga on the lawn during the partial eclipse phase. An eclipse traveler inquires, "So this is your biggest crowd since?…"  The park employee answers "Ever!" The crew is so competent and considerate that the women's porta potties still had toilet paper. Now that's greatness.
Total solar eclipse Aug. 21, 2017 in Beatrice, Neb. filmed by NASA and aired on PBS.
RELATED ARTICLES
Solar eclipse brings out creativity in North Texans
---
Stay up to date on everything green in North Texas, including the latest news and events! Sign up for the weekly Green Source DFW Newsletter! Follow us on Facebook, Twitter and Pinterest.