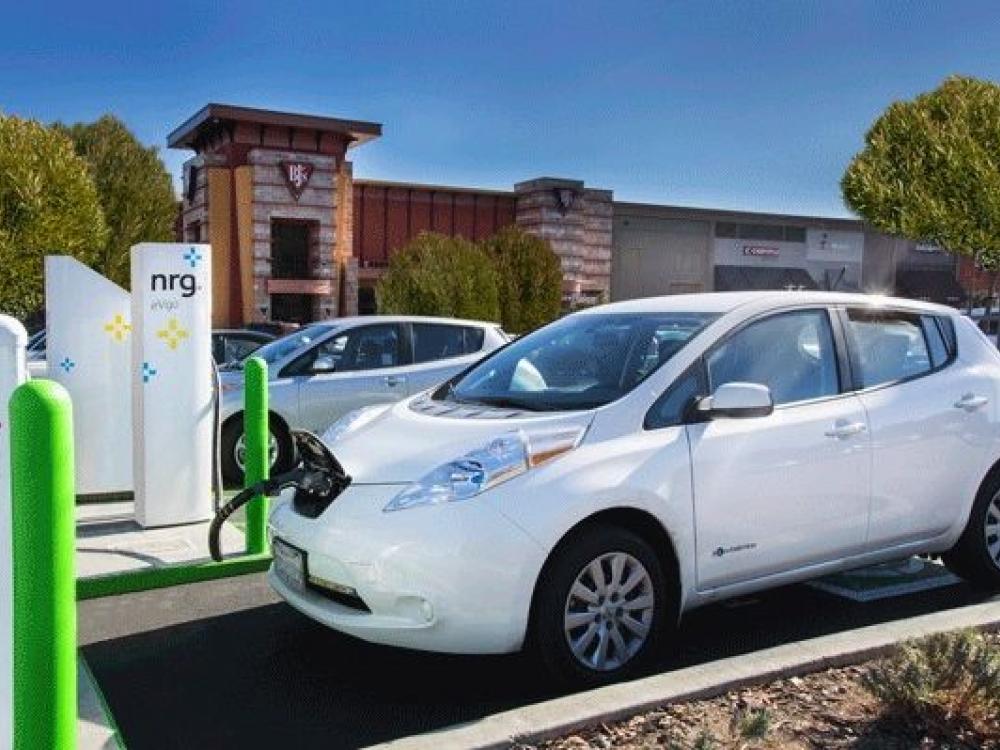 There are nearly 300 electric vehicle charging locations in the DFW area, according to the North Central Texas Council of Governments. Photos courtesy of NRG eVgo.
Oct. 27, 2015
As more electric car owners are zipping around North Texas, more EV charging stations are popping up too. And while a survey by Inside EVs, says 80 percent of EV charging is done at home, it's a good idea for EV owners to learn where all those charging stations are in case they need some extra juice. 
Marissa Fewell, transportation planner for the North Central Texas Council of Governments, said staying charged up while cruising around DFW should be easy in North Texas since currently there are about 275 locations that provide 653 ports to plug into in the area. 
"North Texas has several different charging companies that provide public charging," Fewell said. 
The most common companies in the area include Blink, ChargePoint, NRG eVgo, GE, SemaConnect, Tesla Motors, TXU and Shorepower.
Fewell also explained there are three levels of chargers too and each level provides a different charge for an EV battery.
"The slowest is Level 1," she said. "And the fastest is Level 3 also known as DC fast charging." 
Level 1 provides charging through a 120 volt (V) AC plug. Most, if not all, EVs will come with a Level 1 cord set so that no additional charging equipment is required. Based on the battery type and vehicle, Level 1 charging can add up to five miles of range to an EV per hour of charging.
Then there's the Level 2 charge option, which uses a 240 V, typical in residential applications or 208 V, which is typical in commercial applications. Level 2 requires installation of home charging or public charging equipment and a dedicated circuit of 20 to 100 amps. 
"About 84 percent of the public charging infrastructure in North Texas is Level 2 chargers," said Fewell.
The Level 2 charger adds up to 20 miles of range per hour of charging time.
Meanwhile, the Level 3 option – the direct-current (DC) fast charging charger – will give you up to 70 miles of range in about 20 minutes.
HOW FAR CAN YOU GO?
These days EV battery range can vary from 11 to 265 miles with a full charge. Most all-electric models on the market today have a range of 70 to 80 miles and most plug-in hybrid electric vehicles have an electric-only range of around 15 to 30 miles.  
"The most common EVs in the region are the Tesla Model S, the Nissan LEAF and the Chevrolet Volt," Fewell said. "The battery ranges for these are 265, 84, and 38 electric miles, respectively."
For folks interested in an EV option for the work commute, Fewell said most EV models would allow the person to drive all electric round trip since the average work commute is about 35 miles round-trip. 
"If the vehicle is a plug-in hybrid, the vehicle will seamlessly shift to using the gas generator capability, if it 'runs out' of the electric power. That being said, charging stations located at workplaces are a great opportunity for EV drivers to 'fill up' if needed, while they are working."
To this end, NCTCOG and DFW Clean Cities promote a program from the Department of Energy called the Workplace Charging Challenge, which provides information to employers who are interested in providing charging for their employees.
And, for those folks who aren't ready to commit to a pure EV vehicle yet, a hybrid might be a good way to ease in slowly. 
On a personal note, recently when I was driving a hybrid EV for the week, I found myself not having an easy time finding a charging station, but the vehicle also had a small fuel tank, which provided me enough juice to get home to plug in, however, Fewell insisted "finding an EV charging station in North Texas is extremely easy."
The best way to make sure you don't get caught short is by checking this charging station locator map for nearby plug-in stations, which are located in parking lots of major retailers, restaurants and both DFW airports. NCTCOG uses this map from the Department of Energy's Alternative Fuels Data Center because "the data is constantly being updated," Fewell said. "Many EV owners also use PlugShare.com to locate charging stations.
FAST EV FACTS
There are three different types of vehicles that use an electric battery – the hybrid, the plug-in hybrid and all-electric EV.
HYBRID: The hybrid electric vehicle with an internal combustion engine is an electric motor that uses energy stored in a battery charged by regenerative braking and by the internal combustion engine, like the Toyota Prius. 
PLUG-IN HYBRID: The plug-in hybrid electric vehicle has an internal combustion engine that functions primarily as a gas generator to provide power when the battery is depleted, as well as an electric motor that uses energy stored in a battery that is charged by being plugged into an electrical power source. In the vast majority of these vehicles, the entire drivetrain is electric and examples of this include the Ford Fusion Energi and Chevrolet Volt. These vehicles can be plugged in to charge and can also take gasoline.
ALL-ELECTRIC: Finally, the all-electric or plug-in electric vehicle has only an electric motor that is charged by being plugged into an electrical power source. Examples of this type of vehicle are the Nissan LEAF and the Tesla Model S. 
BATTERY FACTS: The amount of time needed to charge a battery is not affected by whether the vehicle is an all-electric or plug-in hybrid either. With any type of EV or hybrid, it's always about the level of charger that is used since both a plug-in hybrid electric vehicle and electric vehicle use the same type of battery technology.
Drive Green is an ongoing column about electric vehicles by Rita Cook. 
---
Sign up for the weekly Green Source DFW Newsletter to stay up to date on everything green in North Texas, the latest news and events. Follow us on Facebook, Twitter and Pinterest.