Turkey season is gearing up and it's time for families to consider not only how to cook the turkey, but also how to get rid of the turkey grease at the end of the day. 
Around the Metroplex, cities work hard to make sure residents know not to just throw that grease down the drain. While in the past many folks have done that, it is a big environmental no-no these days.
Reports indicate too that plumbers are busier during the holidays than at any other time of year. When folks pour grease down the drain, it can mess up the entire neighborhood's wastewater pipes causing the pipes to become clogged.
"We all know oil and water do not mix," says Helen Dulac, who works at the Dallas Water Utilities in the Grease Abatement Program. "When you pour cooking oil and grease down the drain, the oil and grease tend to cling to your wastewater pipes. Over time, the oil and grease accumulate into a clog big enough to restrict wastewater flow. When this happens in your home, your kitchen sink backs up and can result in expensive plumbing repairs." (Watch Cease the Grease Video. )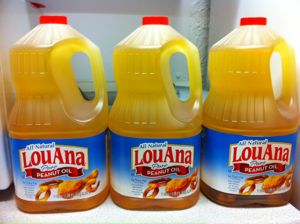 So if you aren't supposed to pour oil and grease down the drain, what do you do with it? 
One option is to allow the grease or oil to cool and then slowly mix it with kitty litter until all the liquid is absorbed. The kitty litter mixture can then be put in a garbage bag. 
Also, instead of rinsing greasy dishes with hot water, first wipe off the excess oil or grease with a paper towel and throw in the trash or compost. 
Some cities collect used turkey grease and other cooking oils and recycle it into biodegradable renewable fuel. Read about how Dallas is turning grease into electricity. 
The city of Plano will even pick up the grease for you.
"The Household Chemical Collection Program [in Plano] offers a convenient pick-up service for the collection of cooking oil to residents," said Plano's Sustainability Communications Coordinator Melinda Haggerty. "Cooled cooking oil can also be filtered, frozen and reused."  
If you have a lot of grease or cooking oil, simply let it cool, put it in a large container and find your nearest grease collection site. 
Cease the Grease Drop Off Locator
for North Texas from the North Texas Grease Abatement Council.                                           
---
Sign up for the weekly Green Source DFW Newsletter to stay up to date on everything green in North Texas, the latest news and events. Follow us on Facebook, Twitter and Pinterest.