Ferrier Custom Homes takes their green mission seriously – even recycling up to 80-percent of construction waste. Photos courtesy of Andrea Ridout.
June 27, 2017
When Don Ferrier surveys an open field, he sees the palette of wildflowers and green grass waving in the gentle Texas breeze. But Ferrier also envisions another kind of green – an image of a green home that can fit responsibly into the landscape.
We are fortunate here in the Metroplex to be graced with several talented eco builders, designers and architects – and Ferrier, president of Ferrier Custom Homes, is one of the most active. D Magazine recently named him one of the "Best Builders of 2017." Note that's not one of the best "green" builders" but one of the best builders in general.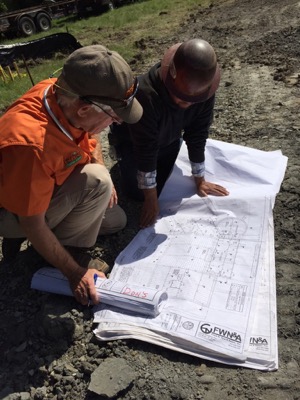 A third generation homebuilder, Ferrier knew that he wanted to break new ground when he launched his career more than 36 years ago in Fort Worth, following in the footsteps of his father, uncle and grandfather. He began by building earth-sheltered homes back in the mid-1980s. Now with daughters, Heather and Lacey, Ferrier's projects often spearhead the latest in green building tech. 
Don Ferrier discusses plans with his foundation supervisor as they improvise an office on the job site.
Ferrier Custom Homes was one of the first builders in Texas to utilize structural insulated panels (SIPs) – which are a "sandwich" most commonly made from an insulating foam core between two oriented strand board (OSB) panels. Not only are SIPs far more energy-efficient than typical stud and insulation construction, they are super-strong, fire-resistant and sound insulating. From a builder's perspective, they also can save time and money since the panels arrive pre-cut and can often be assembled in just a few days.
GARLAND GREEN HOME
Ferrier's latest project will integrate not only SIP panels but also a myriad of other state-of-the-art technologies. Designed by Kris Calvert of Urban Bobcat Architects, the home is located on a cul-de-sac in the rolling Eastern Hills neighborhood of south Garland, which presented some hurdles. 
This rending from Urban Bobcat Architects shows how the home will nestle into its sloping lot.​
"The home's site is a unique property with many challenges including an unusual pie shape and very steep slopes. It is oriented to take advantage of the views of the wonderful grove of trees to the north and to allow an abundance of indirect natural light into the house while minimizing solar heat gain," architect Calvert notes. "The lot is fairly narrow at the front and widens toward the back of the property. This fan shape allowed us to pull the garage away from the house at an angle and create a covered outdoor area that invites the prevailing summer breezes for a more comfortable outdoor environment in the hot summer months.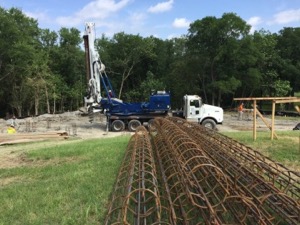 Ferrier adds, "We designed a passive system to hoodwink the hot Texas sun – with a reflective Galvalume metal roof and a 28-panel, 7.98 kW solar array that will provide the home's total energy usage. The home is 'net zero,' meaning that will produce as much power as it uses, selling its excess back to the main electric grid on sunny days and drawing energy from the grid when needed."
"The lifetime, 30-year energy savings from the solar panels is estimated at over $78,000."
The sloped lot required a pier and beam foundation.
Other energy-saving innovations include a tankless water heater that is not only super-efficient but also provides endless hot water. All windows and doors feature multi-pane low-E glass that minimizes heat-producing UV and infrared light without compromising visible light. The home's air conditioning system is high-efficiency paired with programmable thermostats – plus all appliances are ENERGY STAR rated. LED bulbs will be used in all light fixtures that will not only save energy but they last up to five times longer than traditional bulbs.
"We love having more eco-friendly homes in our area," said Garland Mayor, Doug Athas. "It's exciting to see these new technologies that make it possible."
In addition to the energy features, sustainability is key to Ferrier's plan and it is evident in both overt and subtle ways throughout his Garland project. All materials used are as green as possible including low or no-VOC (volatile organic compound) paints, stains and adhesives as well as other low-VOC materials. The lack of VOCs also contributes to better indoor air quality, another prominent aspect of Ferrier's homes.
Rebar sleeves reinforce each pier for added strength.
Water saving features include dual flush toilets, low flow faucets and shower heads plus rain collection and drip irrigation for outdoor watering. The home's landscaping will blend native and adapted plants and all pest control used throughout will be non-toxic. 
Even trash is minimized. 
"Up to 80 percent of the construction scrap will be recycled including sheetrock, lumber and cardboard which we grind up and use as landscaping mulch. We try not to 'waste' anything if we can help it," says Ferrier, with a chuckle at his green pun.
"Even scrap lumber and sheetrock will be recycled on-site to become landscaping mulch."
Though Ferrier and his team have won many local and national awards including the National Association of Home Builders Green Builder Advocate of the Year, they are humbled with each project. 
"We learn something new every time that we break ground," Ferrier said.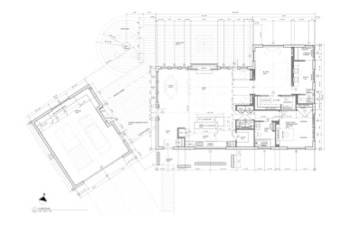 For instance, the Garland home is being built on a pier and beam foundation due to the steep slope of the lot. But Ferrier is ready for that challenge and more as he spreads his eco-message. In fact, he is a popular speaker at building conferences around the country, teaching other builders to "go green."
Urban Bobcat Architects created an open floor plan for comfortable living and entertainment.
For today, though, his focus is on making the Garland project the best that it can be. 
"We want for this couple to love their new home primarily because of its comfort and beauty," Ferrier stresses. "The green aspects should be a nearly invisible element that will enhance not only their standard of living but also do a small part to help save the planet." Then he adds, "It is my hope that all builders begin to embrace these technologies sooner rather than later." 
Coming soon: We'll detail the layout of this unique home and feature photos from the finished project. 
RELATED ARTICLES
Building a green city: Q&A with Dallas environmentalist architect Gary Olp
Dallas architect Gary Olp garners top honor in green building industry
---
Stay up to date on everything green in North Texas, including the latest news and events! Sign up for the weekly Green Source DFW Newsletter! Follow us on Facebook, Twitter and Pinterest.