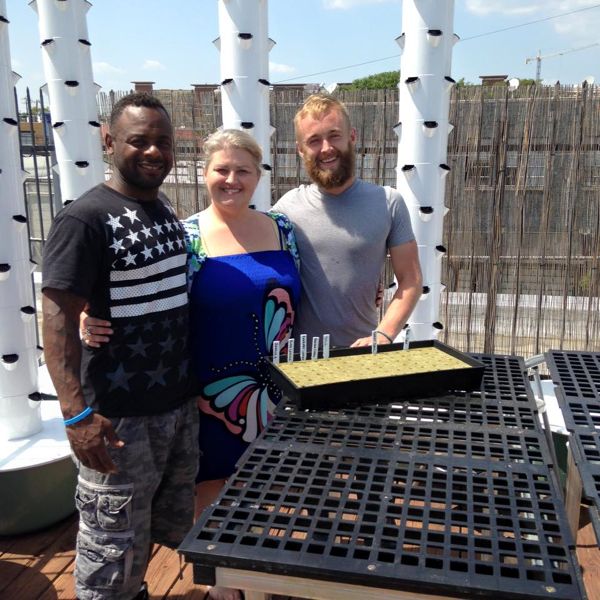 From left, Dallas Urban Farms team member Alaric Overbey with founders Jody Thompson and Maximillian Wall at their Deep Ellum rooftop farm where they'll be growing food in tower gardens. Photos courtesy of Dallas Urban Farms.
Aug. 18, 2015 
Street level in downtown Dallas, one would never know that overhead an urban farm movement is growing. That's the vision anyway of the founders of Dallas Urban Farms, the for-profit company that installed an aeroponic urban farm on a rooftop in Deep Ellum this summer. 
Jody Thompson, cofounder of Dallas Urban Farms, said their mission is not only providing locally grown produce to the community but doing it sustainably by transforming unused space into a high-yield water-conserving farm.
"The technology that it takes to operate our aeroponic urban farm uses 90 percent less water (that goes back to the planet) than traditional farming and by growing in the city, we are eliminating transportation costs," she said. "It just makes good sense when we are running out of water that urban farming is the best way to grow."
Dallas is already home to a rooftop garden of note. The Fairmount's famed 3,000-square foot herb and vegetable garden grows on the hotel's terrace level, providing vegetables and herbs for The Pyramid Restaurant.
A mile southeast, the Dallas Urban Farms' site is located at the corner of Malcom X Boulevard and Commerce Street on top of a building, housing lofts and some businesses. The actual farm consists of 225 square feet, with 13 8-foot towers, each tower having 44 pods (holes) from which the plants grow. The towers sit atop a 25-gallon basin from which water is pumped to the top, trickling down the tower like a fountain, watering the plants.  
Above, seedlings growing with the Dallas skyline in background.
The first step is, of course, planting seeds that are placed into a substance called rockwool that comes in miniblock form, similar to ice cubes that come from a tray. Trays of miniblock rockwool containing the seeds are placed on a growing bench to propagate and grow for about one and a half to two weeks into seedlings that are then placed into the pods on the towers.  
Covering over the farm will be either greenhouse glass or a material called aluminet.  
After Thompson came up with idea to launch an urban farm in Dallas, she and cofounder Maximillian Wall did extensive research. In April 2015, Thompon flew to Phoenix and met with the inventor of the aeroponic tower, gaining hands-on knowledge. She experimented with a residential aeroponic tower garden on a small-scale basis in Frisco.  
While Dallas Urban Farms is a for-profit enterprise, they are working with City Square, Dallas' largest homeless outreach, not only to donate food and teach them about aeroponic gardening in an effort to provide food and jobs for the homeless, but also possibly aide them in building a greenhouse as well. 
The Hilton Anatole is their first corporate customer; in addition to the Hilton Anatole buying fresh produce/fruit/herbs from them, Dallas Urban Farms will aide them in establishing and maintaining seven microform towers outside their hotel. Produce will also be sold at the downtown Dallas Farmers Market.  
David Scalise, executive chef for Hilton Anatole, who will be buying pretty much everything that Dallas Urban Farms produce, says that it is all about getting fresh vine-ripened produce at peak season and at peak flavor.
"The one thing that I like a lot is that the Hilton Anatole is one of the biggest hotels and Dallas Urban Farms is one of the smallest farms in the Texas. I like the parity of our doing business together."
Compared to traditional farming, maintenance for Dallas Urban Farms is miniscule.
"It only takes one person to maintain our 13 towers," informs Thompson. "There are four people on our team, but in the future we will seek volunteers. Technology does it all. We can grow anything we want, except for trees, root vegetables and grasses such as wheat and corn."    
For the first crop, 10 towers will consist of basil (440 plants), with the other three towers producing leafy greens, zucchini or squash and bell or jalapeno pepper.   
Repairs and the setting up of towers will be done by Wall, who says that their first crop will mature about the end of September.  
When asked about the taste of aeroponic produce/fruits, Thompson reminisced to childhood days and a family garden that produced mouth-watering vegetables. 
"I remember the way that fresh tomatoes tasted, but as I have aged over the last 30 years, food has become blander and it is mainly because agriculture has changed," she says. "The tower garden takes stress off the root system and allows those roots to take all the nutrients that the water tower allows, producing phenomenally tasting vegetables/fruits."  
See more on Dallas Urban Farms' website. 
---
Sign up for the weekly Green Source DFW Newsletter to stay up to date on everything green in North Texas, the latest news and events. Follow us on Facebook, Twitter and Pinterest.