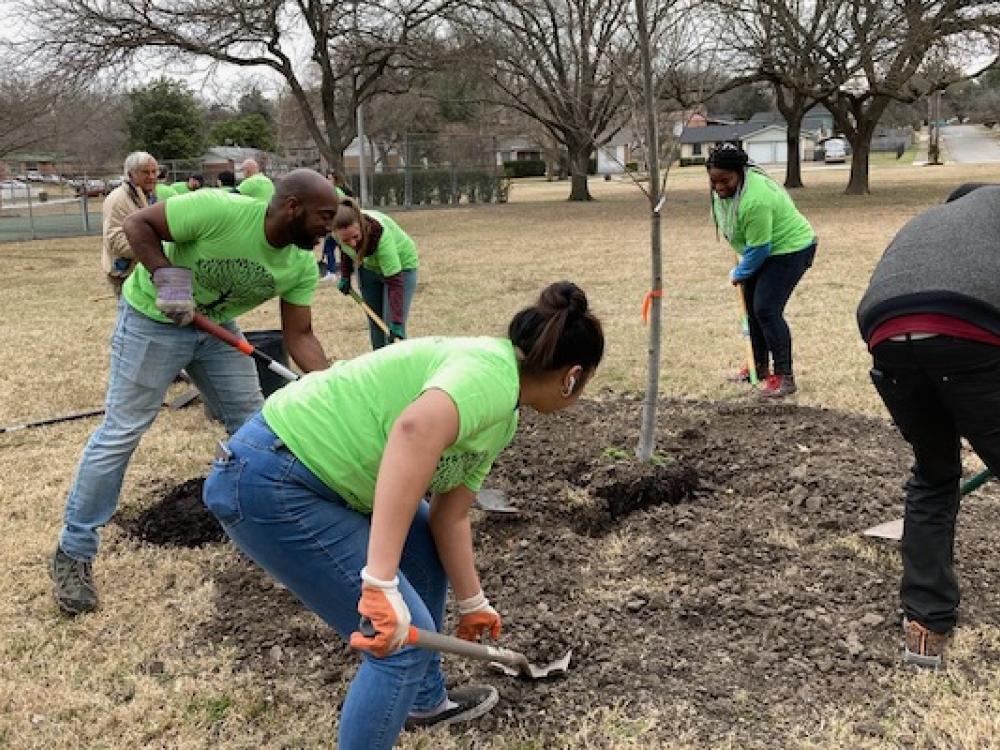 The Branching Out program volunteers planted 50 trees in six parks over the last two months. Photo courtesy of Branching Out Program.
April 27, 2022
Dallas got a little greener this spring, thanks to some tree lovers.
Over the last two months, local volunteers planted 50 trees in six Dallas parks, adding a total of 300 trees to the overall tree canopy in the city or replacing trees damaged in recent storms.
The effort was coordinated under the city's Branching Out program, which started in 2018 as a collaboration between the City of Dallas and the Texas Trees Foundation with the intention of reforesting and beautifying Dallas' aging urban canopy. The work became more urgent after windstorms and a tornado caused widespread damage to the tree canopy in 2019, says Rachel McGregor, urban forestry manager with the Texas Trees Foundation.
"The goal of this program is to increase Dallas urban tree canopy, diversify the tree canopy, and reforest Dallas parks across the city to increase urban forest succession," McGregor says.
As part of the city's Comprehensive Environmental and Climate Action Plan of 2020, the Dallas Urban Forest Master Plan will expand tree canopy coverage on land in Dallas from roughly 32 percent to 37 percent in the next decade as the city prepares for a warmer climate and more extreme weather events brought about by global warming.
McGregor says trees cool the surfaces of their surrounding environment through shade and offer additional ecosystem services such as carbon sequestration, air pollution removal, energy savings and stormwater savings. That's why a healthy tree canopy is a vital part of any city's sustainability plan.
Compared to the progress of other cities, Dallas trails Atlanta's 48 percent coverage but is catching up to Austin's 38 percent coverage. However, Dallas is much further along than either Chicago or Houston, which both stand at a mere 18 percent tree canopy coverage.
The Texas Trees Foundation was founded in 1982 and has since advocated for a greener environment throughout North Texas. In recent years, the foundation partnered with the city of Dallas to develop the Dallas Urban Forest Master Plan that was passed by the city council in the summer of 2021.
"We value our longtime partnership with the foundation and appreciate all they do to enhance our parks and green spaces with life-saving trees," said John D. Jenkins, director, Dallas Park and Recreation. "They help us keep more than 3,000 trees at 40 parks healthy by covering half the costs of irrigation systems and sharing planting and tree care expertise with passionate volunteers. They truly are ambassadors rooted in their commitment to making Dallas parks better."
As many as 75 volunteers showed up at the first planting in Willoughby Park to kick off the tree planting spree. The effort was bolstered by participation from a variety of corporate sponsors and nonprofits, including the Arbor Day Foundation, to add to the tree population in Seaton Park, College Park, Lawnview Park, Campbell Green Park and Bishop Flores Park.
RELATED ARTICLES
Urban forest master plan aims to expand tree canopy in Dallas
Dallas climate plan passes unanimously by virtual vote
Big trees need more protection, say DFW advocates
---
Stay up to date on everything green in North Texas, including the latest news and events! Sign up for the weekly Green Source DFW Newsletter! Follow us on Facebook and Twitter. Also check out our new podcast The Texas Green Report, available on your favorite podcast app.