Patio dining area now overlooks Hillcrest Village Green Park, the site of a former parking lot.  Photo by J.G. Domke.
Feb. 3, 2021
Joni Mitchell's classic environmental anthem goes, "They paved paradise and put up a parking lot." 
But on Saturday, Dallasites came out to celebrate the transformation of a parking lot into a city park, in a rare reversal of urban sprawl.
On Jan. 30, around 200 neighbors and city officials gathered to mark the official opening of the new Hillcrest Village Green Park at 6959 Arapaho Road in Dallas. Former Dallas city council member Sandy Greyson was among those who had looked forward to the 1.5-acre park's opening day. 
Greyson served as a council member in Far North Dallas from 1997 to 2005 and then from 2011 to 2019. She had fought the developer wanting to turn the shopping center into apartments.
"I worked two to three years to make sure this actually happened," Greyson said of the park's opening.  
She hopes adding the new green space and will help the venue return to the "village center" she remembers from more than 40 years ago. Back then, everyone shopped at the nearby grocery store, used the corner gas station, as well as the bank, restaurants and drug store at the intersection of Arapaho and Hillcrest Avenue. Here was where you could meet your neighbors and feel like a community, she said.
Neighbors and dignitaries came out to celebrate the official opening of the new green space at Arapaho and Hillcrest Avenue on Jan. 30, 2021. Photo by J.G. Domke.
FROM PARKING LOT TO PLAYGROUND
Back in 2017, the Florida-based owner of the Hillcrest Village shopping center requested a zoning change. He wanted to tear down the shopping center to build an apartment complex. 
The surrounding homeowners didn't want more apartments and enlisted Greyson to push back against rezoning.
Meanwhile, the shopping center caught the eye of SHOP Cos., a Texas developer who has restored several shopping centers in North Texas. Two of the partners had grown up in the neighborhood and looked on the shopping center with nostalgia. 
They had been inspired by an updated mall in Santa Monica, Calif, that had garnered national coverage in Architect magazine with its opened-up roof and inviting outdoor spaces. They wanted to do something similiar on a smaller scale with the Hillcrest Village venue.
According to SHOPS cofounder David Sacher, they quietly approached the owner and acquired the property off market in 2018.
"We always wanted to get more green space up here because we grew up here in north Dallas," says SHOPS cofounder Sacher. "It was what we call more of a green space desert, because of the price of real estate up here."
The investors led by SHOP Cos cofounder Daniel Fuller needed Greyson to help get support from the City of Dallas and this was just what she wanted to hear!
A plan was hatched to revitalize the property while developing green space.
A 2017 bond packaged provided funds to develop the park. In addition, the City of Dallas's Office of Economic Development and Dallas City Council approved up to $3 million to renovate the shopping center.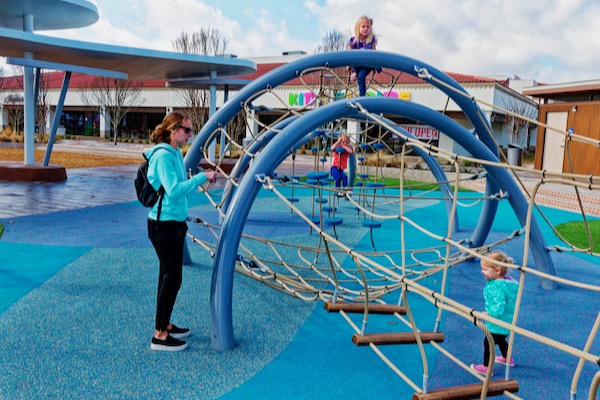 A playground was installed where a two-story office building once stood. Photo by J.G. Domke.
As part of the plan, an existing two-story office building on the site was torn down. This meant the property required fewer parking spaces. Then the old parking lot in the center was ripped out to become the city's Park and Recreation Department's newest green space - Hillcrest Village Green Park.
Today, instead of looking out at asphalt, the shops encircle a lawn, trees and native plants, along with benches, bike racks and a kid's playground. A widened walkway offers room for outdoor dining.
"Stacked Friends" by Dallas sculptors Brad Oldman and Christy Coltrin watches over the park. Courtesy of Brad Oldham Sculpture. 
The city also placed art in the park — a whimsical 14-foot mirror-polished stainless steel sculpture by Dallas artists Brad Oldman and Christy Coltrin. The sculpture called Stacked Friends features a totum pole made by "friends" - a bird, a rabbit and a dog.
"SHOP did what they said they were going to do," says Greyson, "I thought their vision was exactly what people in the area wanted."
Meanwhile, businesses are returning. 
Entrepreneur Steve Kuntz opened a Diesel Barber Shop at the end of June.
"The park was the main reason, because I knew it would be bringing a lot of people," Kuntz says.
Dallas Morning News food critic Sarah Blaskovich reported in December how some are calling Hillcrest Village "a mini Klyde Warren Park." The first restaurant to open is Lada, a Tex-Mex venue created by chef Michael Ehlert, who helped reopen The French Room in downtown Dallas. Other restaurants, including Don Pepe's Rancho Mexican Grill, will soon be opening, along with Haystack Burgers and Brass Tap Beer Bar. Previous tenants, Starbucks will remain in the center and along with the old donut shop.
In addition, LA Fitness has agreed to repurpose the former grocery store next to Hillcrest Village.
Dallas city council member Omar Narvaez and chairman of the Environment and Sustainability Committee sees this green park serving as a "template" for the city.
"We know walk-up retail is not the same and with the virus, people are shopping online. This shows how we were able to take a space that was basically dead and now it's woken up," he says.
Narvaez hopes this will motivate other shopping centers throughout the city to turn parking lots into parks. He says that instead of having to read about it happening in other cities, they can go and see in working in Dallas. 
"It can happen in your neighborhood."
RELATED ARTICLES
Arlington couple helped turn former nursery into nature park
Volunteers spruce up Hines Park in Dallas
---
Stay up to date on everything green in North Texas, including the latest news and events! Sign up for the weekly Green Source DFW Newsletter! Follow us on Facebook and Twitter. Also check out our new podcast The Texas Green Report, available on your favorite podcast app.