Kat Mendenhall opened MendRT, a vegan western retail store, in the Design District on Saturday.
April 12, 2017
No cows were harmed in the making of this cowboy boot store, says the owner of MendRT, a new vegan footwear store in Dallas. The cruelty free high-end boutique, which offers faux leather western fashion held a soft opening in the Design District on Saturday. 
The business grew out of an online business launched by Dallas native Kat Mendenhall two years ago. She had switched to a vegan diet due to animal welfare issues surrounding animal food products. That also meant she ditched leather in her wardrobe. However, she quickly realized that as a Texan, who grew up spending time at both her grandparents' ranches, cowboy boots were crucial to her image.
"It was the hardest thing to give up," she said.
She searched online for vegan cowboy boots, found none and saw a niche that needed filling. That was the start of Mendenhall's Kick Butt Boots, which prided itself on duplicating the look of traditional Texas cow boots without relying on cows for material.
Since then the business has taken off, drawing animal-conscious customers from around the globe, primarily Austrailia, Canada and Europe. Meanwhile in the U.S., while the faux-leather boots are popular on the west coast and in the Northeast, they have not caught in Mendenhall's home state, where steakhouses and barbeque joints rule. 
"The majority of our customers are, believe it or not, not from Texas," Mendenhall says with a laugh.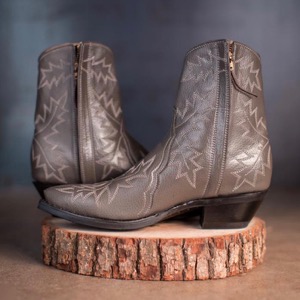 Now she hopes to change that by having a physical presence on the Dallas shopping scene.
She said while she was thrilled with the store's online success, she had always envisioned having a brick and mortar one day. Recently, she was looking for office space and stumbled on a location in the Dallas Design District, west of downtown. It fit her budget but it was more space than she needed.
"I thought why not use the space and go ahead and open the store?" 
Located at 1130 Dragon Street, the shop features display boots for customers to try on and other vegan friendly retail, including socks, dresses and T-shirts, along with accessories like belts, wallets, purses and cowboy hats. She also features a few gift items and animal-friendly jewelry by Dallas artist Christy Robinson.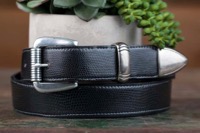 "She's making exclusive pieces for me," said Mendenhall.
MendRT's boots are all custom made from a patent microfiber material, which is designed to have a leather grain look and a natural appearance. According to their website, the material is an engineered nylon or a polyester fiber matrix that is PVC-free and contains no plasticizers or off gassing.
But don't expect to walk out of the store with a pair of boots on your feet. The shoes are all made to order and will ship in six to eight weeks. Shoppers can choose between three different styles, designed for women and men, which come in a choice of eight different stitching styles. The boots are currently offered in a variety of browns, black, red, gray, light cream and burgundy. 
"I really can get any color," said Mendenhall. "We can do cutouts, inlays, but it increases the price."
Although she assumes most people purchase the high-end boots to wear in urban settings, Mendenhall says the boots are durable enough for outdoor use and can be fit with an extra thick sole.
One of her most loyal fans is Renee King-Sonnen, the founder of Rowdy Girl Sanctuary, a cattle ranch turned vegan farm-animal sanctuary in Angleton, Texas. 
Renee King-Sonnen, the founder of Rowdy Girl Sanctuary, shows off her working vegan boots created by Kat Mendenhall.
"She has a red pair and she sent me a picture of herself in them with one of her cows Little Surprise," said Mendenhall, with a laugh. "She wears her boots everyday, feeding animals on the ranch." 
The grand opening of MendRT will be held on April 29. And while Mendenhall said she already feels the love of the vegan community, she's hoping to convert the Neiman Marcus set at her Big D location. 
"I'm trying to market to mainstream shoppers."
MendRT
About: Vegan cowboy boot company started by Dallas native Kat Mendenhall.
Where: 1130 Dragon Street, Dallas
RELATED STORIES
Dallas native develops animal-free Texas-style footwear
---
Stay up to date on everything green in North Texas, including the latest news and events! Sign up for the weekly Green Source DFW Newsletter! Follow us on Facebook, Twitter and Pinterest.