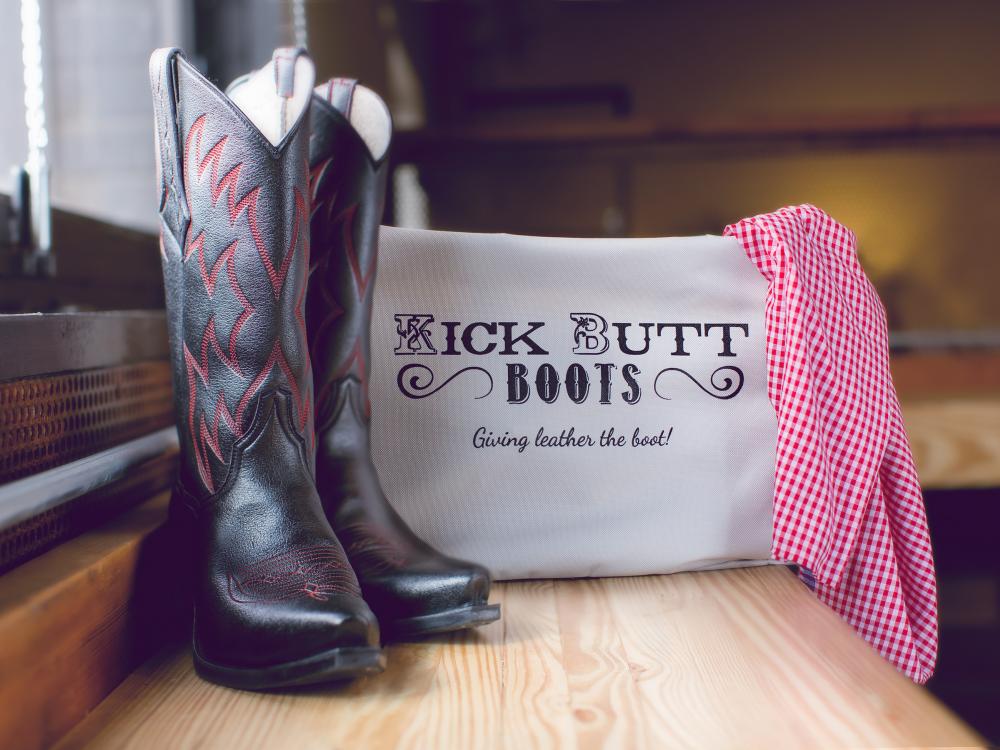 Dallas-based entrepreneur Kat Mendenhall is launching a marketing blitz for her Texas-style vegan boots in April. Photos by Lindsey Miller.
Feb. 9, 2015
What to do when you're a Texan looking for a cruelty-free pair of cowboy boots?
Look no further than Dallas-based Kick Butt Boots, specializing in leather-free vegan boots. Founder Kat Mendenhall said they'll be really kicking up dust come April 1, when her small company will "open the floodgates" as she describes it. 
Most of the marketing will be done on social media, but she'll also be advertising at vegan festivals across Texas, Louisiana and Colorado, she said.
Right, Kat Mendenhall said she's been boot collector for 20 years.
"The prototype turned out beautiful and we are currently finalizing our initial designs, but these are custom made boots so a customer will be able to personalize their own pair based off the prototypes."
Her inspiration for the designs comes from what she describes as her own passion for artistic and uniquely designed boots. 
The Dallas native says she's been a collector of handmade boots for 20 years and has spent a lot of time at both set of grandparents' cattle ranches, where the footwear is required. However, she says her boots prove that animals do not have to suffer for fashion and comfort.
"My vision for the boots has not wavered since day one," Mendenhall explains. "I wanted them to be 100 percent vegan, handmade, custom and artistically designed in Texas with eco-friendly and U.S. sourced materials. My hope is that vegan or not, any boot lover will fall in love with the fashion and comfort of Kick Butt Boots. The winner is no human or animal had to needlessly suffer."
A vegan for more than five years, Mendenhall says it wasn't until a year and a half ago, while preparing for a trip to New York to attend the Main Street Vegan Academy, that she had her ah-ha moment regarding leather. She was traveling down a country road one day and found herself behind a cattle trailer. Although the scene was familiar, she saw it anew.
"The cows I was traveling behind were scared, losing their footing as they were being rattled and shaken around in the trailer. The fright on their faces as they gazed at me was more than I could bare and I knew their fate," she said. "A light came on for me that day."
Mendenhall says that experience, along with learning the details of the cruelty and illness related to the leather industry while at the Vegan Academy resulted in her decision to ban leather for good. However, known to those around her as the "boot maven" with a ridiculous collection of leather cowboy boots, her search for a quality Texas designed non-leather replacement came up empty handed. That's when she took matters into her own hands.
The company has been in the development phase for a year, Mendenhall says. 
She reached out to 25 handmade, custom boot makers in Texas because Mendenhall says she felt it was important to learn from the best "old-school style," she explains. The company will initially offer three ladies boots, two traditional cowboy boots, one man's cowboy boot and one ankle boot. 
"The designs will differ, but a customer will have the ability to choose the color of the boot along with the color of the stitching," she says. "Who knew there were so many parts to creating a non-leather boot since a traditional leather cowboy boot is made out of 90 percent leather?"
Mendenhall says the most challenging part has been finding the right supplier with an eye toward the best quality, durability, comfort and the ability to artistically work with the material she chooses.
The Kick Butt Boots are considered traditional Texas-style cowboy boots too.
"This is a distinct style that stems from our state's Spanish culture and they are a Texas emblem both on the ranch and in town, but let's not limit them to just Texans."
Mendenhall says although her company is small, there are ready to do big things.
"There's a lot of creativity and personalization we can offer since the boots are handmade and a custom-made boot should reflect one's own personality."
Contact Kick Butt Boots via their website, sign up for the newsletter and check out the Facebook page, where Mendenhall says she is currently posting teasers of the boots.
---
Sign up for the weekly Green Source DFW Newsletter to stay up to date on everything green in North Texas, the latest news and events. Follow us on Facebook, Twitter and Pinterest.