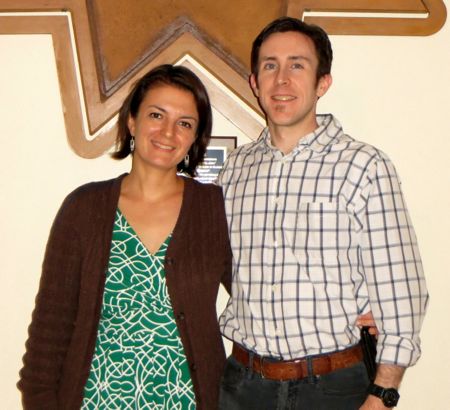 Dallas Interfaith Power and Light cofounder Stephen Fuqua, shown with his wife Dr. Tania Homayoun, has enrolled in the 2015 Green Faith program. Courtesy of the Fuqua family.
March 27, 2015
By Penelope Taylor
A local interfaith activist has enrolled in green leadership training so can promote environmental issues more effectively in North Texas.
Stephen Fuqua, co-chair of Dallas Interfaith Power and Light and a member of the Baha'i community of Irving, has joined the Green Faith Fellowship Class of 2015.  
Green Faith is a New Jersey-based interfaith environmental coalition with a mission to educate and mobilize diverse religious communities for environmental leadership. Founded in 1992, Green Faith is a leader in the religious-environmental movement and has won national and international recognition for its work.  
"I see the Green Faith program as an opportunity for me to learn more of the religious language of creation care and environmental justice," said Fuqua.
There are 30 members of the 2015 Fellowship class: Jewish, Christian, Hindu, Buddhist, Baha'i and Unitarian Universalist practitioners among them. Since 2008, the program has trained over 130 leaders for environmental leadership.
During the 18-month course, fellows receive education and training in eco-theology, "greening" the operation of religious institutions, environmental advocacy and environmental justice. Each Fellow writes their own eco-theological statement and carries out a leadership project in their community, mobilizing religious leaders in relation to an environmental issue. The $1,500 program fee is often funded at least in part by their institutional sponsors.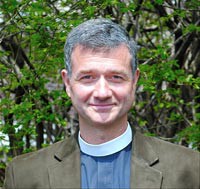 Reverend Fletcher Harper, executive director of Green Faith, leads the Fellowship program and explains the role it can play in empowering religious communities to address environmental issues.
Right, Rev. Fletcher Harper, executive director of Green Faith.
"Traditionally, there's been little overlap between religious and environmental leaders, and few opportunities for faith leaders to learn about the environmental issues and various strategies used to address them. As a result, faith leaders have not yet lived up to their considerable potential in this area. The Green Faith Fellowship Program helps leaders like Stephen develop the knowledge, networks and approaches to integrate religious and environmental efforts."
Fuqua said he is excited to be part of the Green Faith Fellowship. 
"My personal environmental awareness preceded my spiritual awareness. For much of my life they were in separate domains, but I wanted to integrate them and started down that path with the Dallas Interfaith Power and Light three years ago."
Dallas Interfaith Power and Light, formed in 2012, is part of Texas Interfaith Power & Light and the national Interfaith Power & Light organization. The nonprofit describes its mission as a 'religious response to global warming.'
The concept of environmental justice emerged in the United States in the early 1980s and is focused on the fair distribution of environmental benefits and burdens.
Left, courtesy of Green Faith.
Green Faith is one of the oldest religious-environmental organizations in the U.S. and has grown into a group with national impact and reach. 
Though the connection between religion and environmental awareness is still evolving in the United States, Fuqua explains his concept of the tie between the two.
"One facet is the primal religious impulse: the awe we feel in nature, in response to the mysteries and marvels of the universe. This leads us to feel devotion toward whatever force – call it God – that gave rise to 'being.' In the active sense, religion is a powerful motivator in many people's lives.
He said environmentalists have tried raw appeals to emotion, while scientists have appealed to logic yet humankind still lives in a unsustainable manner, especially in the United States.
"And the grave injustice is that often the people most affected by climate change are those who are least responsible and least capable of mitigating the impact. I believe our religious beliefs call for us to act for the betterment of all. The religions of the world can address the injustice from rising seas in Bangladesh, to thawing arctic tundra, to ever increasing droughts in West Texas."
Above, courtesy of Green Faith.
Fuqua says his new endeavor will help him inspire others in DFW area. 
"For my Green Faith leadership project, I want to work with Dallas-area participants to help build greater environmental awareness within the community. And going further, that this growing awareness will lead to real changes in personal, community, and institutional behavior as it impacts our climate and our ecosystems." 
On the Web:
Dallas Interfaith Power and Light 
---
Penelope Taylor is a Dallas-based freelance writer. A native New Yorker, she has called Dallas home for 20 years. Her work has been published in local, regional and national publications, including the Dallas Morning News, Edible DFW, the Texas Jewish Post and others. She is a conscious eater, diligent recycler, composter and an avid but not very accomplished gardener. Penelope is passionate about making a difference to the future of our planet and sharing the myriad ways that people are making a difference today. 
Sign up for the weekly Green Source DFW Newsletter to stay up to date on everything green in North Texas, the latest news and events. Follow us on Facebook, Twitter and Pinterest.