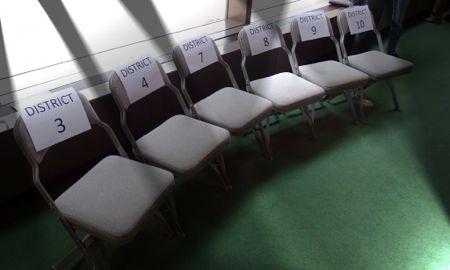 The empty chairs represent the six open city council seats that the Dallas Green Alliance hopes to fill with environmentally conscious council members. Courtesy of the Dallas Green Alliance.
March 11, 2015 
As St. Patrick's Day approaches, a Dallas political action committee is scrambling to amass a pot of gold with the goal of greening up the Dallas City Council. 
The Dallas Green Alliance, a grassroots nonprofit that formed last summer, is hosting its first fundraiser on March 15 at Casa Stellina, 3004 Main St, from 4 p.m. to 7 p.m. Tickets are $50. There will also be a silent auction.
Proceeds will go to supporting environmentally friendly candidates in the upcoming city elections in May. 
The dinner will feature cuisine prepared by local celebrity chefs, including Chef Graham Dodds of Hibiscus, Chef Mark Wootton of Garden Cafe and Chef David Temple of Restaurant 27.
Organizer Debbie Bozeman-Zook said the fundraiser will feature a variety of food, including vegetarian and vegan fare, along with libations from Deep Ellum Brewery and Treaty Oaks Distillery. 
"Local farmers and food groups are also donating," said Bozeman-Zook.
Former councilwoman Angela Hunt will be the headlining speaker.
While Dallas Green Alliance organizers declined to say whether any special announcements will be made at the event, the group has started to vet candidates for the six open city council seats, which have no incumbent running. If new "green" candidates win four out of these six open races, they would join four existing green council members – Sandy Greyson, Scott Griggs, Philip Kingston and Adam Medrano – to become an environmentally-friendly majority of eight.
Claudia Meyer, co-chair of the Dallas Green Alliance Steering Committee said the coalition grew out of the fight against fracking in Dallas over the last few years.
"The good thing that came out of all that was the contacts and friendships and alliances," said Meyer.
Meyer said the network expanded as people from all areas of the green community rallied around the latest battle to stop the six-lane Trinity Tollroad from being built in the Trinity flood plain. 
In addition to gas drilling opponents, the Alliance includes those from the organic food industry, such as the Texas Honeybee Guild, along with local defenders of green space Ted and Hal Barker.
"The issue brought us all together. It encompasses a lot of different green aspects – water, air, open space, quality of life." 
Above, plans for the six-lane nine-mile Trinity Toll Road call for it to be built in the floodplain of the Trinity River, which many say would ruin plans for a linear park.
So far the group has raised about $6,000. With about 70 guests registered for Sunday's event as of press time, Meyer said they're still hoping to entice 150 people to attend.
Meanwhile, all of the Dallas Green Alliance organizers are donating their time for the cause. 
"We're all citizens in this for a better Dallas."
More info on the Dallas Green Alliance 'Gather for Common Ground' fundraiser.
---
Stay up to date on everything green in North Texas, including the latest news and events! Sign up for the weekly Green Source DFW Newsletter! Follow us on Facebook and Twitter.