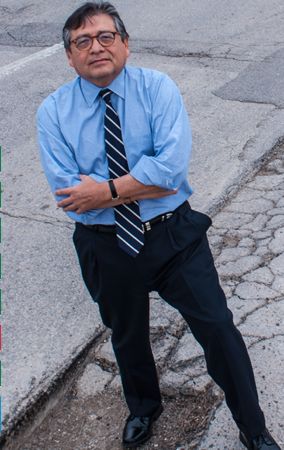 Left, Marcos Ronquillo, the mayoral candidate endorsed by the Dallas Green Alliance, says of the Trinity Tollroad: "This plan has evolved into nothing more than a $1.5 billion boondoggle – a poorly conceived idea that gets drastically more expensive every time it is discussed."
April 6, 2015
"It's not easy being green!" to quote well-known public figure Kermit the Frog. Even more so in Dallas in 2015 than on Sesame Street.
On March 29,  a vocal new group of environment-minded Dallasites announced they'd successfully identified eight aspiring public servants to vie as bigger frogs in the local pond – green ones, who meet the criteria of the Dallas Green Alliance as mayoral and City Council candidates with potential to make Dallas a kinder, greener place.
DGA formed last summer with the goal of winning a majority of open council seats in May 2015. Six of the 15 council positions have no incumbent running. 
"If new 'green' candidates win four…of these six open races, they would join four existing green council members to become an environmentally-friendly majority of eight," states the website.
The first step of the strategy, identifying candidates, is now complete.
"Our major litmus test for candidates was opposition to the Trinity Toll Road,' said Cherelle Blazer, Dallas Green Alliance chairman, announcing the roster at their Deep Ellum meeting place.
Right, the Dallas Green Alliance says the six-lane nine-mile Trinity Toll Road would ruin plans for a linear park. 
"It's a textbook example of out-of-date thinking in Dallas. Also, we wanted those who would be able to advocate for green issues. Knowing their district and its issues was a plus."
For mayor, the choice was Marcos Ronquillo. Endorsees for seven districts appear below.
Interested candidates qualified by responding in writing to DGA's questionaire. Those whose responses tallied with DGA's criteria were interviewed by a team of Alliance members, including veteran political consultant Lorilee Bartos.
"This is the first time concerned Dallas residents have come together to raise money for their own grassroots Political Action Committee," declared member Jim Schermbeck. "We've raised $20,000 in the past two months, and we're fundraising anew."   
The group's recent Gather for Common Ground chefs' buffet and auction fundraiser in the architect-designed garden event space and home of a Deep Ellum couple drew 200 attendees and garnered $13,000. 
The group has disbursed initial funds to candidates, and intends to provide more as fundraising continues.  
Dallas Green Alliance Steering Committee members Catherine Garrison and George Battle III greet guests at the Gather for Common Ground dinner held March 15 in Dallas. The event raised $13,000. Photo by Linda Cooke.
In addition, DGA members Paul Carden, Cherelle Blazer, Gary Stuard, George Battle III and Erica Altes Cole committed to serve as district coordinators of the get-out-the-vote effort. An open invitation was given for more to take on this task in other districts.
Signs for Marcos Ronquillo were already on hand at the announcement meeting. 
Outreach includes information booths at Oak Cliff Earth Day April 12 and publicity and presence at more events, including candidate forums. Efforts have begun to team with other local groups to work in the community and boost the chosen slate.
So, for eight candidates, Dallas Green Alliance is taking action to make it easier to be green:
DALLAS GREEN ALLIANCE CITY COUNCIL ENDORSEMENTS
FOR MORE INFORMATION
Visit Dallas Green Alliance for:
• Candidate responses to the DGA questionnaire 
• Calendar of key events in the run-up to the election, such as candidate forums
• Blogs with ongoing campaign updates, key issues and thought-provoking commentary
RELATED ARTICLES
Dallas Green Alliance seeks funds
Dallas Green Alliance party recap
---
Sign up for the weekly Green Source DFW Newsletter to stay up to date on everything green in North Texas, the latest news and events. Follow us on Facebook, Twitter and Pinterest.