• A vegan bakery, an urban farmstead and a recycling bin are some of the green projects North Texans have sought backing for on Kickstarter.com.
By Julie Thibodeaux
Some local greenies are turning to crowd funding to raise money for their progressive eco-friendly projects, thanks to Kickstarter. The for-profit company offers the latest way to skirt traditional financing hoops and raise funds to launch creative endeavors. Since the company's founding in 2009, more than more than 44,000 projects have been funded. 
One of the guidelines of Kickstarter is that 100 percent of the fundraising goal must be met within 60 days. According to the website, its clients have a 44 percent success rate.
Here are three Kickstarter campaigns, two underway, that support worthy environmentally friendly projects in Dallas-Fort Worth: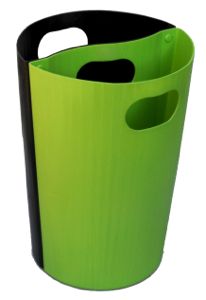 DYANAMIC DUO
Back in February, a Dallas couple, Jeff and Liz Helfrich, launched a Kickstarter campaign to jump start the manufacturing of their invention, the Solecan, a dual bin that has removable compartments for trash and recycling. 
While raising more than $9,000, the Harvard grads fell short of their ambitious goal to raise $75,000 by Earth Day. 
DOWN ON THE FARM
Urban Acres, the popular Dallas co-op and market, already offers organic and locally grown produce at pick-up stations and a storefront in Oak Cliff. Now it wants to open a farmstead in the same neighborhood. 
The venue will feature a 500-foot greenhouse with an aquaponics system, chickens providing fresh eggs and resident bees to help with pollination. A dining area for patrons is also planned. 
"The goal of this farmstead to educate visitors about small-scale sustainable farming," says Urban Acres founder Steven Bailey. "We want our members to know the story of their food. We decided to bring the farm to them."
They are trying to raise $30,000 by Aug. 5 on Kickstarter to build the kitchen, gardens and patio on their leased property in Oak Cliff. At the time of posting, they'd raised nearly $6,000.
GETTING THE DOUGH
Nancy Castillo and Racene Mendoza are planning to open their vegan bakery in Richardson in September. They secured a small business loan but discovered they needed additional cash to meet city codes at their storefront at 1930 N. Coit Road, Suite 140. So they launched a Kickstarter campaign July 1. 
When they open Reverie Bakeshop in the fall, they will be offering vegan versions of custom cakes, cookies, bars, breads and pies. 
"Everything a traditional bakery has," said Castillo, adding that gluten-free options will be available as well.
Castillo, who's been vegan since age 15, said she started out trying to control her weight but has kept up the diet for ethical reasons. A formally trained pastry chef, she found her ideal business partner in Mendoza, a gifted cake decorator.
Since 2008, she and Mendoza have been operating a vegan baking catering business out of rented commercial kitchen space. 
"We were getting a flood of vegan orders," said Castillo. "We were thinking that it was sad there wasn't a vegan bakery in Dallas."
That's when they decided to jump into the scene. On their website, they vow to bring sweets to the Metroplex that are compassionate towards animals, the planet and health. They plan to make their bakery green by reducing waste and using eco-friendly to-go packaging.
"It's a fun venture," said Castillo. "We find more people are interested in trying veganism."
They're seeking to raise $10,000 on Kickstarter by July 31. By mid-July, they'd raised more than $3,000. [BREAKING NEWS: We're happy to report Reverie Bakeshop reached their Kickstarter goal July 17.]
---
Sign up for the weekly Green Source DFW Newsletter to stay up to date on everything green in North Texas, the latest news and events
Julie Thibodeaux covers environmental issues, green topics and sustainable living for Green Source DFW. Previously, she worked as an editor and writer at the Fort Worth Star-Telegram. Send your green bulletin items to Julie@greensourcedfw.org. Follow us on Facebook and Pinterest.