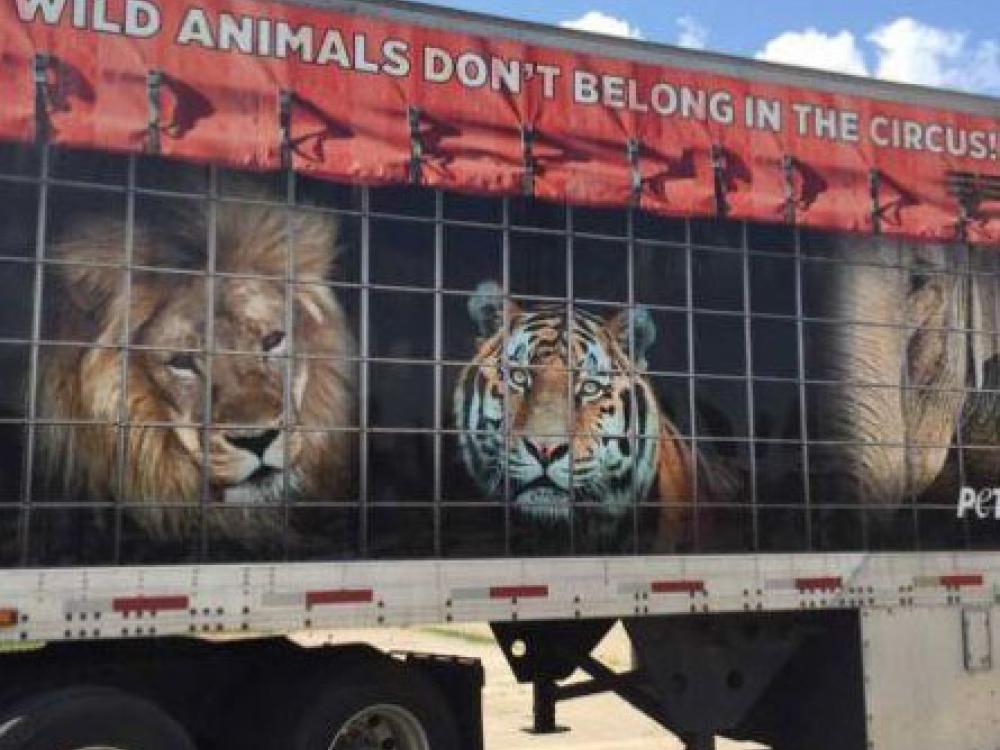 An empty trailer that once hauled big cats for the Shrine Circus was the backdrop for the announcement that Dallas-based Fun Time Shows will no longer include wild animals in its shows. Courtesy of PETA.
Sept. 8, 2015
The Dallas-based owner of Fun Time Shows, the largest Shrine circus producer in the country, announced last week that he'll no longer produce shows featuring elephants, tigers, lions or other wild animals. 
Bill Cunningham, CEO of Fun Time Shows, made the announcement in Lee Park in Dallas beside an empty trailer that once hauled big cats across the country. 
The Dallas native and longtime Shriner has been involved with promoting and fundraising for the Shriners for nearly 30 years. 
According to Cunningham, when the opportunity came up to buy the circus in 2009, he and his business partner Chris Moore, knew it had to be modernized. It was Moore's wife who lobbied for them to remove the wild animal acts, saying the public no longer felt comfortable seeing wild animals perform.
Above, elephants perform at a Shrine circus. Courtesy of Albuquerque Journal.
"We felt that we were missing an opportunity to cater to a broader audience," he said.
Cunningham said he's seen a shift over the years in how the audience reacts when the animals come into the arena.
"In the past, the audience would be ecstatic about elephants, now there's a more muted response," he said. "It's like they're looking at something they shouldn't be."
In recent years, using elephants in circuses has grown increasingly controversial as reports of animal abuse and images of their housing conditions have surfaced. Protestors have dogged circuses. As a result, earlier this year, Ringling Bros. announced that it would phase out performing elephants in its shows by 2018.
Shrine Circus elephant chained. Courtesy of SOS for Circus Animals.
Cunningham, who brings circuses to 80 cities a year in 22 states, said he's view of animals in circuses has evolved.
"I don't buy the sales job presented that these animals provide education," he said. "These animals are very special and we cohabitate the earth with them and they are deserving of our respect and awe. They're not here to perform tricks for our entertainment." 
According to Cunningham, the reaction from the wild animal industry to his announcement has been "vicious" he said. Fellow Shriners heckled him at the press conference in Dallas last week. Shriner president Doug Terranova questioned Cunningham's motives for making the change.
Bill Cunningham, left, gets flack from fellow Shriners at press conference last week. Courtesy of KDAF.
"If he doesn't want to include animals, that's fine. But it's very disingenuous for him to use PETA as a ploy when the simple fact is he's had an ongoing battle with the animal suppliers," Terranova told station KDAF.
Cunningham admitted that when he bought the circus, he was required to lease the elephants as part of the deal. However, when the elephant contractors didn't keep up their end of the arrangement, he saw an opportunity to speed up his commitment to dropping the acts.
"The reaction of these people speaks to their fear," said Cunningham. "These are small people who are out of step with modern times."
However, he said he's received an outpouring of support from outside the industry, including PETA 
"I've tried to listen to the mothers who said they didn't want their kids to grow up and learn that the animals they saw had been probed and poked and proded and chained to floor."
As for what will happen to the former Shrine Circus animal stars, they were never included in Cunningham's acquisition so their fate is still in the hands of the performing industry. 
Meanwhile, Cunningham's Shrine Circuses will feature high wire acts, human cannonballs, trapeze artists and motorcycle tricks along with performing horses and dogs.
"The horses and dogs act in true collaboration with their owners," he said. "We feel the audience still wants to see domestic animals."
---
Sign up for the weekly Green Source DFW Newsletter to stay up to date on everything green in North Texas, the latest news and events. Follow us on Facebook, Twitter and Pinterest.