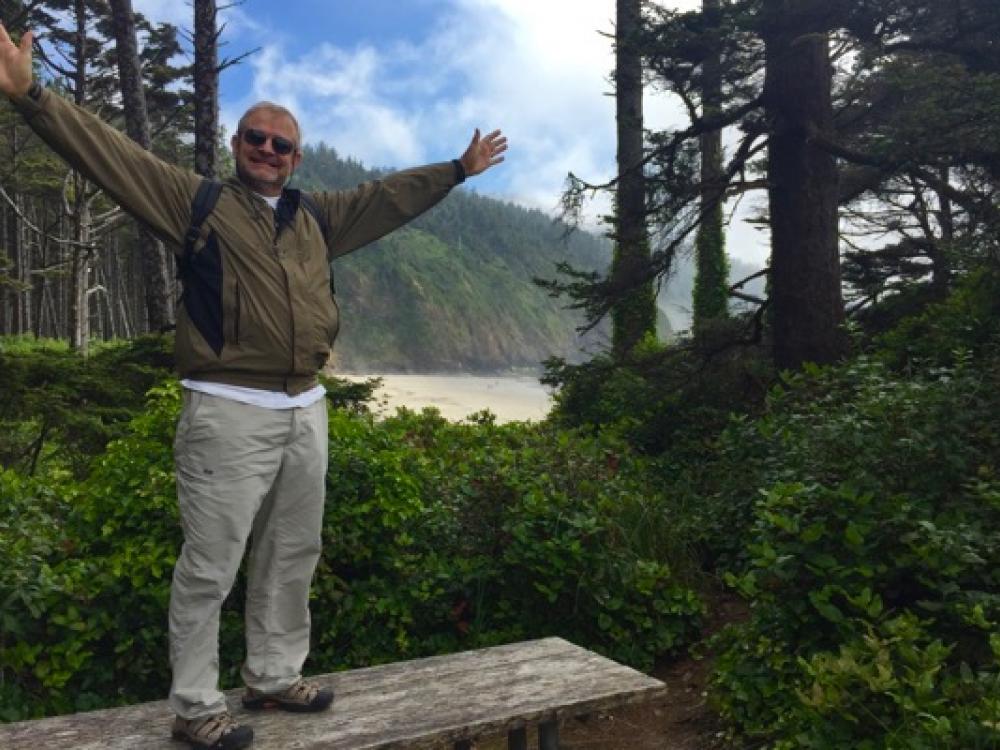 Dallas author and camping guru Wendel Withrow reveals how to prepare for adventure, avoid alligators and escape civilization. Photos courtesy of the author.
Oct. 17, 2018
Dallas-based author Wendel Withrow wrote the definitive guide for tent-camping in the Lone Star State a decade ago. Now the attorney-turned-outdoor enthusiast offers more wisdom and experience in his second edition, released this year by Menasha Ridge Press. 
In The Best in Tent Camping: Texas, second edition, Withrow, the former chair of the Dallas Sierra Club and current director of Green Source DFW, offers a holistic perspective on the beloved pastime, weaving history, local culture and a hint of danger into the rich tapestry of Texas terrain that he first covered in 2009. 
If the author has gone deeper into the camping experience for this revised version, so have I. For example, since writing my review of the first edition, I actually have gone tent camping. In fact, I was so enthralled by Withrow's scenic portrayal of the state's environs that I neglected to consult the camping equipment checklist in the appendix. Thankfully for this family of four, campers at Ray Roberts Lake State Park's Isle du Bois Unit were friendly about lending their fire starter to the amateurs who arrived at 10 p.m. on a Friday night, sans lighter. (And let's not even talk about the spaghetti we boiled with water that tasted like it came straight from the lake.) 
The new edition of Best Tent Camping: Texas will prepare you not only to avoid such mishaps, but also to thrive on your next camping trip. Packed with enough practicality to satisfy a park ranger, enough philosophy to inspire a transcendentalist, and enough adventure to keep the kids engaged, this volume has all you need to escape from civilization. 
In the following Q&A with GreenSourceDFW.org, Withrow shares the ways his guide can prepare you to enjoy the hidden charms of our state's 50 best campgrounds.
AC: I loved your first book. How is the second one different?
WW: The first edition was very well-received. The second one contains new parks with new information, but the fun is in the major additions. First and foremost, we now have color pictures throughout the book. Some of them are mine and some are standard stock, but the best are from the lead photographer for Texas Parks and Wildlife. Chase Fountain donated a large number of photos to the book, which gives it a special and wonderful feel. 
Second, we added a section for what I call adventure sports: kayaking, rock climbing - the sports that are appealing to the new, younger generation of tent campers. Just about every park has something new as far as activities you can do when you go tent camping. I also included the best local spots for food and drink when heading into and out of the park. These are great places to stop that are not chains.
The final thing that's new: we have updated our recommended reading to include more environmental philosophy. Most of these passages are hard-to-find and make for thought-provoking reading around the campfire. 
AC: What is special about Texas parks that newcomers to camping in our state should know?
For a newcomer to Texas, it's important to know that Texas is a big state. You also have a wide variety from true desert to tropical. The book breaks the parks up into seven regions. It also includes the best campgrounds by category for pursuits from bird-watching and hiking to preferences from family activities to solitude. This book will help you tailor your trip and appreciate the natural beauty and features that make each park special.
AC: What are a few of your favorite spots?
WW: Parks not to miss include Caprock Canyons State Park and Trailway on the way to the Panhandle. In East Texas, Tyler State Park is often underestimated about how beautiful it is. Southwest of Corpus Christi, there's Padre Island National Seashore. This has it all: beach, sand, water, birds and silence. And then there's Brazos Bend Park,  south of Houston, with a prehistoric feel with American alligators. 
AC: Are we talking about the kind of alligators that eat people?
WW: They can, but if you follow alligator etiquette, you should be okay.
AC: Good to know. As you were saying, other places you recommend?
WW: In the Austin area, there's Pedernales Falls State Park. This area has grown so much that parks like this often reach their capacity on weekends, so good backups would be Garner State Park and Guadalupe River State Park.
AC: How much advance planning is in order to get into some of these parks?
WW: Actually, the parks are becoming extremely popular. You have to make reservations several months in advance for the weekend at some parks. I urge people to make early reservations and try to go in off-season – that's November through April - to avoid the crowds. Also, if you can swing it, the parks are wide open during the week. Sunday through Thursday night you have a much better chance of getting a great campsite.
AC: What about packing? 
WW: If you check the appendix, I have included features like a Top 10 Equipment List. Tent camping can be a less pleasant experience if you're not prepared. For example, if you buy the cheap ground pad or your air mattress springs a leak, you won't enjoy sleeping on the ground. Spend a little extra money and allocate your resources so that you don't put a $200 sleeping bag only to ruin the experience with a $3 air mattress. 
Studying the parks ahead of time will also give you a feel for where you are going, which enhances your experience. If you don't do that, you may drive in late at night, you're harried, and your experience will not be as good as if you're really ready. 
AC: Having been there and done that, I can attest that Withrow's book is best read cover to cover.
As we wrapped up the interview, Wendel told me he would be out of pocket this weekend. 
"If you want to know more, call me on Monday," he said, "I'm going camping and I turn the phone off as soon as I go through the gate." 
That unplug-at-all-costs attitude is the final ingredient we need, not only for a stellar tent-camping experience, but also for a more positive outlook on life. And you don't have to wait for your next camping trip to get there. This book is an escape in itself. True to his promise, this guide can help families pick out the when, the where, the how – and it will also remind you about the why. To quote one of Withrow's many "Voices from the Campfire" (p.174): 
"We can never have enough of nature. We must be refreshed by the sight of inexhaustible vigor, vast and titanic features, the sea-coast with its wrecks, the wilderness with its living and decaying trees, the thunder-cloud, and the rain which lasts three weeks and produces freshets. We need to witness our own limits transgressed, and some life pasturing freely where we never wander."

- Henry David Thoreau, Walden, or Life in the Woods (1854)

 
Best in Tent Camping - Texas, Second Edition
Published: 2018 by Menasha Ridge Press
Author: Dallas attorney and former chair of the Dallas Sierra Club Wendel Withrow.
About: Car camping guide to 50 Texas parks with detailed campground maps, color photos, facility details, driving directions, a rating system and tips based on first-hand experience by the author.
---
Stay up to date on everything green in North Texas, including the latest news and events! Sign up for the weekly Green Source DFW Newsletter! Follow us on Facebook and Twitter.