Book Forest created by the Dallas artist named VET and Sheila Cunningham is on display at the Irving Arts Center until Jan. 29.
Jan. 2, 2017
For nature lovers who like to read, the whimsical installation on display until Jan. 29. at the Irving Arts Center will make you smile.
The Dallas artists who created "Book Forest" also hope to make viewers think about the interdependent relationship of books and trees and the environmental issues surrounding them.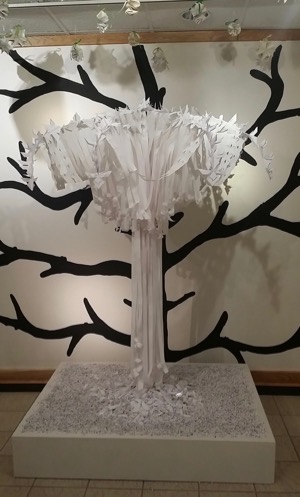 "We wanted to provoke thought and conversation about repurposing, recycling and conservation," said Sheila Cunningham, who created the exhibit with the Dallas artist known as VET.
Mariposa Tree III.
Their unique installation turns the gallery into a playground made of books, which are folded, manipulated and stacked to mimic trees, plants and ground cover. 
"By re-inventing, re-designing and re-purposing discarded books through the Book Forest Installation, we continue the conversation and offer alternatives to diverting these items from the landfill," said VET.
The two artists have collaborated since 2011 on seven site specific installations.
Cunningham said the Book Forest installation is just a continuation of the ongoing series they create together in order to explore and celebrate the power of trees and books while contemplating the transitional phases of both. 
The women were invited by the Irving Arts Center to create a site specific installation focusing on the environment that would complement the Center's greener holiday theme. 
 "We thought the book forest would be a good fit for that theme," Cunningham said.
VET said the installation offers nurturing food for thought regarding both trees and books, which both face a fragile existence of continual encroachment from progress.
Flutter Book.
Cunningham added that progress is at the heart of both as they "inspire, inform and plant seeds for new ideas." 
"It is a continual cycle as they offer progress while facing challenges from progress. This cycle mimics the transformation and renewal between them as the tree is turned into paper – to books –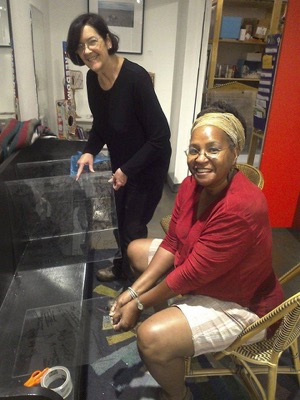 to feeding minds – then discarded or recycled – composted to feed new trees - to feeding minds with a tranquil nature escape. The primary purpose remains the same, feeding minds while disseminating information but the many new forms of output changes how we seek and consume that information." 
Dallas artists Sheila Cunningham, left, and VET, sitting. VET creates the Artcycle Club feature for GreenSourceDFW.org. Photo by Bradley Strickland.
The Book Forest  
What: An installation created by Dallas artists VET and Sheila Cunningham.
When: Through Jan. 29.
Gallery Hours: Mon, Tues, Wed and Fri: 9 a.m. to 5 p.m.; Thursday: 9 a.m. to 8 p.m.; Saturday: 10 a.m. to 5 p.m.; Sunday: 1-5 p.m. 
Where: The Irving Arts Center, 3333 N. MacArthur, Irving. Free.
Website
---
Want to stay up to date on everything green in North Texas, including the latest news and events? Sign up for the weekly Green Source DFW Newsletter! Follow us on Facebook, Twitter and Pinterest.