Gary Olp, an architect who established his environmentally minded firm in Dallas in 1987, was named a 2015 LEED Fellow.
Dec. 1, 2015
Dallas architect Gary Olp, founder of GGO Architects, received one of the top green building honors in the nation when he was recently named a 2015 LEED Fellow by the Green Building Certification Institute, a sister organization of the U.S. Green Building Council. 
Olp is only the third Dallasite to be chosen for the prestigious award. The other two Dallas recipients are Gerald Kettler in 2013 and Kirk Teske in 2014. All total, there are 183 recipients in the United States.
The Green Building Certification Institute, established in 2008, chooses exceptional architects who focus on green sustainable building to be LEED Fellows, its most prestigious designation. The program was developed to honor and recognize LEED Accredited Professionals who have made a significant contribution to green building and sustainability at a regional, national or global level. LEED APs demonstrate exceptional achievement in key mastery elements related to: technical knowledge and skill, a history of exemplary leadership in green building, significant contributions in teaching, mentoring or research with proven outcomes, a history of highly impactful commitment, service and advocacy for green building and sustainability.  
"The LEED Fellow designation is the highest rating that the USGBC awards, and it is a worldwide recognition," said Zaida Basora, assistant director of Public Works for the city of Dallas, who nominated Olp for the LEED Fellow Award. "When you put that after your name, people recognize you as an expert and as someone who has contributed to the green building movement in a significant way. Gary was a pioneer and knows how to use the LEED rating system."  
Olp says that the LEED Fellow Award is especially humbling because he has worked to be a part of the environmentally-conscious design movement since college.  
"Prior to LEED existing, there were a few of us [architects] working as a group on environmental issues, but we were also doing it independently," he says. 
When the U.S. Green Building Council, a non-profit that created the LEED green building rating system, and a sister organization GBCI established its rating system in 1998, it became an incentive to be certified in environmental effectiveness. Olp said today LEED certification, which stands for Leadership in Energy and Environmental Design, is recognized worldwide as a signal that the designer and builder have gone the extra mile to make a building more environmentally friendly.
"When you point out that a certain building is a LEED building, it means that is saves money and energy, reduces water consumption, improves indoor air quality, facilitates better product and material choices and drives innovation."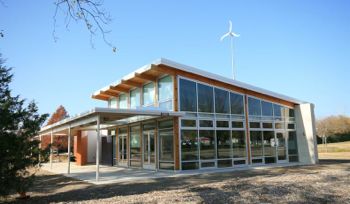 Basora said she has known Olp since 1982, when he supported sustainability before LEED. 
Gary Olp designed the Environmental Education Center in Plano, which received the LEED platinum rating. Courtesy of GGOArchitects.
"When you see a LEED Fellow designation, you know that the person is an expert in green and when I think about architectural green or sustainability, I think of Gary," she says. "He is able to convince people that sustainability is the thing to do; he is very dependable and knows how to incorporate green strategies into his work, educate clients and convince them to do the right thing about sustainability.  
Olp adds that in the early days not only was he an advocate for LEED certified work, but also a whole group of environmentally minded colleagues – those interested in biology, water, trees, carbon, etc.  – an entire group who are at the top of their field.  
"Being named a LEED Fellow is an honor, because it is also along with my colleagues that we had a goal to really create a sustainable world for future generations. We saw generations before us who listened and are listening as to what the responsibility of LEED building conveys.
"It is our responsibility to see that the green movement moves forward by continuing to inspire others to follow us in a position of power."     
---
Sign up for the weekly Green Source DFW Newsletter to stay up to date on everything green in North Texas, the latest news and events. Follow us on Facebook, Twitter and Pinterest.