Dallas entrepreneur Garrett Boone is the principle investor in TreeHouse, a green home improvement store that opened in Austin in 2011. Photo courtesy of JetsonGreen.com.

Dec. 1, 2014
In 1978, Dallas entrepreneur Garrett Boone intuited that America needed a new type of retail store, one that would help people get a grip on their possessions and live more neatly. Launching the Container Store, he and partners Kip Tindell and John Mullen ultimately offered a dazzling array of shelves, boxes, bins or bottles to organize your pantry, kitchen, garage, closet, even the car trunk. Franchises grew outward from Dallas and the Container Store became a huge success story.
Today, Boone has invested in another retail idea that appears especially suited for its time. Like the Container Store, this new place helps people create a more livable home. But in this case, that means a more energy-efficient, non-toxic and water-conserving domicile. Make that one with low-VOC paint, flooring from recycled materials, the latest design elements and possibly a backyard chicken coop. 
This store, called TreeHouse, has been open in Austin for three years, and just as the Container Store once did, it is carving out a retail niche.
Right, Garrett Boone.
It offers products in three distinct areas: Technology and materials such as solar panels, rain barrels and non-toxic insulation that improve home performance; design and décor products, ranging from flooring to kitchen and bathroom cabinets; and outdoor products, such as bird feeders, composting supplies and chicken feed.
One might call it a green home improvement store, though Boone says it doesn't aspire to scale to "Home Depot" size. Both Boone, the store's principal investor, and TreeHouse president Jason Ballard say TreeHouse aims to be comprehensive, but within bounds, offering a well-curated collection of products.
The idea is that customers can come to TreeHouse and not be mystified by the latest technology, but be introduced to "best in class" products by well-trained staff. Customers can go DIY, but they're also offered complete solutions, with advice and installation readily available.
When Ballard and his partner Evan Loomis took this concept to Boone in 2010, the veteran entrepreneur was ready for it. He'd seen other attempts at "green stores" fail and thought they'd lacked the comprehensive approach that was needed.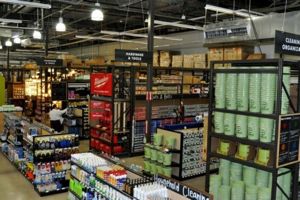 For Boone, the epiphany came in 2006 when he, Trammell S. Crow and Hotels.com founder Dave Litman formed Texas Business for Clean Air and were advocating for energy efficiency bills in the Texas legislature.  
Left, TreeHouse aisles. JetsonGreen.com.
"As we walked the halls during that session, I thought, 'Where in the world would I go if I wanted to make my house more energy efficient?' I had no idea," he recalls.
Walk into TreeHouse, at 4477 S. Lamar Blvd., you'll find several ways to get more energy- and resource-efficient, and probably have fun doing it.

THE LONG GREEN AISLE 
As you stroll the airy, open spaces you'll see clusters of displays and placards, explaining how rain barrels work, detailing varieties of compost and touting the value of nontoxic stains, sealers and glazes. You'll find gadgets for the kitchen, like natural scrubbies that can help you get off paper towels, and sleek, but conscientious options for bath and kitchen tiles, custom cabinets, wood and textile flooring.
Right, rainwater harvesting tanks available in 11 colors at TreeHouse.
In some areas, though TreeHouse will guide you to just a choice or two in windows or insulation or solar panels that it considers the best, most sustainable, best value option.


The idea is to receive each customer individually and help them with their unique plan, Ballard says, serving the expecting parent who's looking to detoxify the home; the family that wants to go solar; the gardener who's all-organic.  
But for all the signage and museum-quality displays in the store, there's nothing that says "sustainable or green building anywhere in the store," Ballard notes. 
Above, this Kenyan-style cedar bee hive is one of TreeHouse's homesteading products.
"We view this as really normal and what will be normal 20 years from now," 
Just like 30 years ago everyone had lead in their paint, but today, no one does.
"You don't shop for 'lead-free paint'," he says. Thanks to a federal ban in 1977,  it just is.
BRIGHT FUTURE
In its third year, looking at all metrics, TreeHouse is catching on in a big way, Ballard says. It has charted 75 percent year over year growth in revenues in 2014, and indicators like social media and community engagement are moving upward.
"All three [areas – performance, design, garden] perform really well, and so we have a really balanced business," he says. 
Actually, that's not the whole story. The solar panel business is, pardon the pun, through the roof this past year.
Solar, says Ballard has been a main driver because the TreeHouse program, which sells American-made Sun Edison PV arrays, enables new owners to finance their solar panels over several years at a monthly cost that's offset by their energy savings.
Left, Sun Edison solar panels available through TreeHouse.
In other words, it's like getting solar for free. That's a magic bullet, because people like and understand solar power; the only factor holding them back is the cost, Ballard says. 
Austin Energy's healthy rebates of $1.10 per watt have helped create these sunny prospects for TreeHouse and its clients. The program would not be as affordable in Dallas or Houston, where solar rebates have only been intermittently available through certain electricity providers.    
Still, solar is proving to be a better deal as the costs of panels come down nationally, and that might have you asking when TreeHouse will be opening a store in DFW.

"We are getting close to opening a new store," Boone says.
But he would only say that Dallas is one city under consideration.
---
Stay up to date on everything green in North Texas, including the latest news and events! Sign up for the weekly Green Source DFW Newsletter! Follow us on Facebook, Twitter and Pinterest.