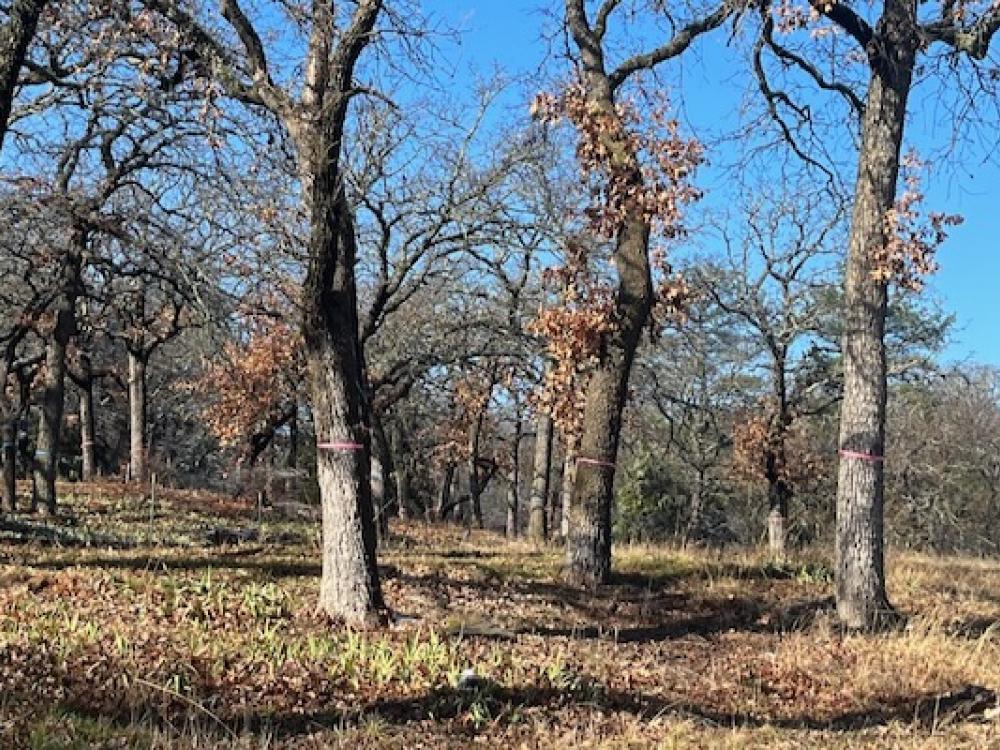 Residents are trying to save a Cross Timbers forest remnant in Colleyville from development, which contains trees estimated to be up to 250 years old. Photo by Mark Fadden.
May 17, 2023
Earlier this month, the city of Fort Worth was recognized for preserving a fragment of old-growth forest, part of the last remaining Cross Timbers forest in region. Earlier this year, in another part of the Metroplex, some Colleyville residents successfully fought to preserve a similiar scrap of Cross Timbers woods about the same age. However, their battle recently took a discouraging turn.
CROSS TIMBERS CROSSFIRE
Back in February, the Colleyville City Council unanimously denied a proposal by WillowTree Custom Homes to build 19 luxury homes on a heavily wooded land at 2417 Wilkes Drive and 6900 Pool Road. At the time, it seemed as if Tim Waterworth and his group, Save Colleyville Trees, had successfully shut down developers plans. 
But on April 10, the City of Colleyville Planning & Zoning Commission reversed course and reopened the door to development. 
According to a briefing from the meeting, the applicant, Curtis Young of Sage Group, Inc. who represented developer WillowTree Custom Homes, submitted a new request to rezone the property. This time for a 14-lot single-family residential subdivision. 
Colleyville P&Z approved it, setting in motion round two between WillowTree Custom Homes and Save Colleyville Trees, a neighborhood group that wants to save one of the last Cross Timbers forests in the Dallas-Fort Worth area.
The 14-acre parcel contains nearly 1,000 native Cross Timber trees, including 547 post oak trees, up to 28 inches in diameter, which are likely between 150-200 years old, according to Steve Houser, a consulting arborist in the DFW area for over 42 years and a Trustee with the Texas Historic Tree Coalition. 
The 14-acre parcel contains nearly 1,000 native Cross Timber trees, including 547 post oak trees, up to 28 inches in diameter, which are likely between 150-200 years old, according to Steve Houser, Texas Historic Tree Coalition trustee.
Cross Timbers ecosystem used to be plentiful across the western half of North Texas region but has declined significantly due to continued encroachment of farming, ranching and residential development. 
"The original settlers called it the Cast Iron Forest because it was thick, dense and almost impenetrable. It was an ideal animal habitat because its density provided protection and habitat," Houser said. "We continue to lose native ecologies and wildlife at an alarming rate. I suspect the vast majority has been altered with less than 10 percent of the original ecology remaining. Plants and wildlife that were once common are now becoming rare or extinct."
DEVELOPER'S PUSHBACK
According to the April 10 P&Z meeting briefing, the City's Comprehensive Plan, "Destination Colleyville," designates the subject property and the property near this location along Wilkes Drive as planned for residential use. The proposed rezoning request does comply with the residential land use designation stated in the comprehensive plan. One of the goals for this area, as outlined in Destination Colleyville, is to protect the character and integrity of existing neighborhoods by promoting future development that is compatible with the surrounding development patterns and development character.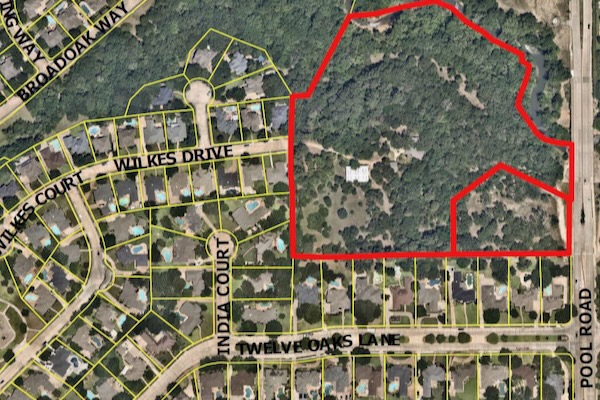 A map showing the location of the Cross Timbers forest under threat. Courtesy of Save Colleyville Trees.
According to previous reporting from the Fort Worth Report, Young brought up the issue of property rights when it comes to developing land at the April 10 P&Z meeting.
"I hear a lot from the leaders of this city about their conservative nature and all that kind of stuff," Young said. "What about property rights? Do we not have property rights in America here? This idea that 'I can live on my 10,000 square-foot lot that was developed, that had trees on it, that had slopes on it and somehow that's OK, but my neighbor down the street can't develop their property,' to me is anti-American."
FUZZY MATH
According to the City's Land Development Code, at least 50 percent of the tree canopy in a subdivision development must be preserved. This excludes trees located in existing utility easements or right-of-way. Furthermore, once lots are ready for homebuilders, then at least 75 percent of the trees on each lot must be preserved. 
Waterworth and members of his group take issue with that math in this case. 
"The developer [is] putting a percentage of tree canopy saved which only considers the first phase of development, which is putting in roads and utilities," Waterworth said. "It does not account for the tree canopy lost once builders buy lots and build homes in the next phase. The difference is very significant. In addition, I think the city can do a better job of disclosing and educating the public about this nuance in the tree code and how tree canopy preservation is being presented."
Mike Farrell, a degreed engineer who has been working with design drawings for 40 years, and a member of Save Colleyville Trees, also questioned the validity of the developer's new plan when it comes to tree preservation. 
"The original [plan] had 911 protected trees, the latest 807. How did 104 trees become not protected?" said Farrell. "The developer shows the removal of 246 [trees] or 30.5 percent. When you lay pipe, the area disturbed is not the width of the backhoe shovel. The backhoe has to have room to maneuver and unfortunately tree roots suffer and trees [are] lost. So, I believe 288 would be more realistic and that is 35.7 percent."  
Farrell also pointed out that while these trees are decades old and provide habitat for animals, they also provide flood control for the adjacent neighborhood.
"We have strong storms that dump water," Farrell said. "Trees small and large maintain the topography. The sheer volume of tree loss would decimate the ability for the land to not wash away, given the extreme slopes. I have issues with the small slope that drains from this lot into my yard on relatively level ground with less than a five-foot drop. Water cascades into my backyard, traverses 35 feet or so and washes dirt down my driveway in many a heavy storm. The 40-foot plus drops would be hugely detrimental in the volume dirt runoff if trees of any size were cleared."
Assistant city manager Adrienne Lothery responded to the confusion regarding the tree preservation issue in this case. 
"Either knowing or estimating the total canopy loss after homes are built would require knowing the size, location and orientation of each of the homes as well as how they were going to address grading," Lothery said. "That is something that is usually determined by the client/prospective homeowner of each builder over the course of several years after the initial roads and utilities go in." 
Lothery went on to say that in this proposal, the trees located within the 1.917 acre (83,505 square feet) floodplain will be 100 percent preserved. 
CITY INTERVENTION
While Waterworth and his group are trying to preserve the Cross Timbers Forest because it is historically and culturally significant to their community, he thinks the City should step in to provide a compromise like what other area cities have done. 
"The city of Flower Mound protects its Cross Timbers Forest with special zoning districts that leave clusters of trees intact like a conservation easement," Waterworth said. "Perhaps a conservation easement for the densest portion of Cross Timbers forest, Residential Estate Zoning or some other alternative approach to preserve our heritage trees should be explored."
Lothery said that the city council will hear the first and second readings of the WillowTree Custom Homes application for rezoning at the June 6 and June 20 city council meetings. 
RELATED ARTICLES
Colleyville residents rally to save scrap of native forest
Fort Worth forest remnant receives national recognition 
---
Stay up to date on everything green in North Texas, including the latest news and events! Sign up for the weekly Green Source DFW Newsletter! Follow us on Facebook and Twitter. Also check out our new podcast The Texas Green Report, available on your favorite podcast app.