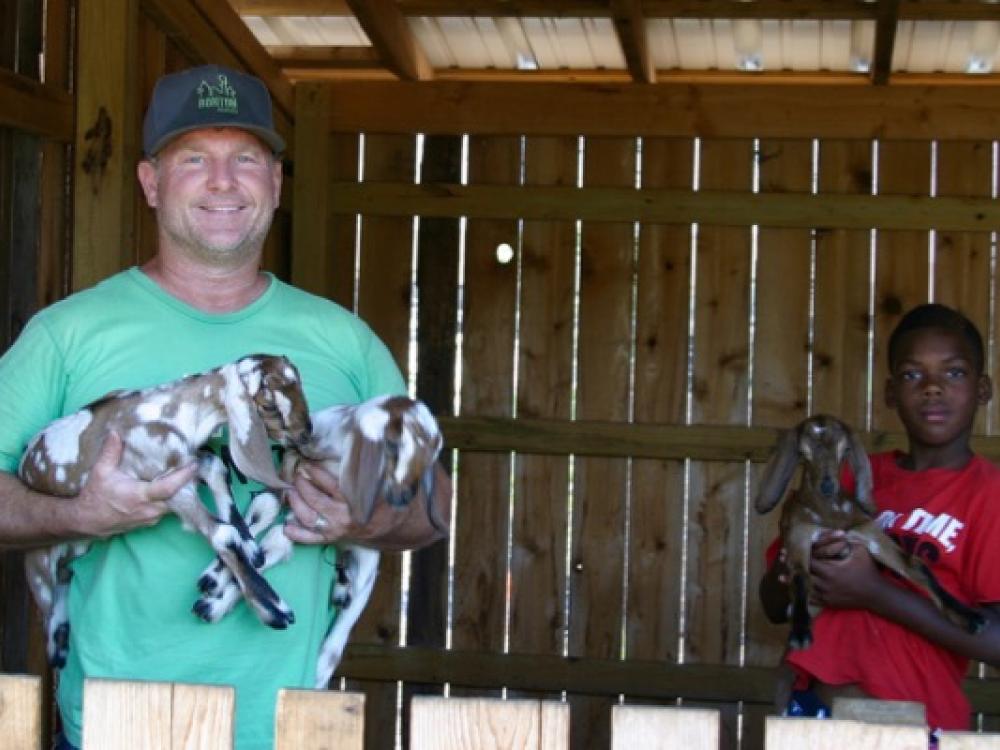 Bonton Farms founder Daron Babcock with Malachi and milking goats. Photo by Monica Johnson.
July 18, 2016
Just two short years ago, the south Dallas lot where Bonton Farms sits today was abandoned – overflowing with trash and overgrown trees. On a recent visit to the farm, it was bursting with life – farmers harvesting heirloom tomatoes, neighborhood kids helping out and baby goats bleating for their momma. But Bonton Farms isn't a typical farm. Thanks to its determined founder Daron Babock, it's also a community hub, a prayer group and a place of healing. 
Bonton worker "Peanut" and volunteer. Photo by Monica Johnson.
Bonton, a historically African-American neighborhood in south Dallas, has struggled with poverty and its ramifications: high crime, drugs and violence. And even though Bonton has recently experienced revitalization, including new housing, it still lacks a grocery store, making it a food desert.
That may not seem like a big deal, but over half of Bonton residents have no personal transportation, and taking the bus is a three-hour round-trip. Because of this, many residents rely on convenience stores for their food, which is loaded with calories and fat, and sold at higher prices than at grocery stores.  
It's no coincidence then, that Bonton has a higher rate of cardiovascular disease, 54 percent more than the city of Dallas as a whole. Diabetes, stroke and cancer are also significantly higher. And because of this, many residents are too sick to work, which perpetuates the vicious cycle of poverty. This is what Babcock noticed when he first came to Bonton almost 6 years ago. 
An El Paso native, Babcock had a nice life working as a successful restaurateur and businessman. However, after losing his wife to cancer, he started to wonder if there was more to life than just working and making money and began attending a men's Bible study in Bonton, hosted by H.I.S. BridgeBuilders, a faith based urban missionary group that has been serving the neighborhood for 20 years. Here, he found a kindred brotherhood among the other men in attendance. 
When several men from the neighborhood mentioned that they needed jobs, Babcock offered to help. However, he realized many of them would be unable to attain regular work due to diabetes-related illnesses. So Babcock, now a Bonton resident himself, decided to help his friends gain back their health by providing nutritious food.  
"I couldn't go to sleep at night knowing that I wasn't doing anything to help. So we [Babcock and a few neighborhood men] planted a garden. The next thing you know there were 10-15 neighborhood people a day that would stop and ask, 'Why are you doing this? There's no gardens in the 'hood,'" recalls Babcock. 
After Dallas mayor Dallas Mike Rawlings visited the garden, Babcock knew he was onto something good. So he decided to turn the garden into a working farm, utilizing several vacant lots down the street, and in 2014, he founded Bonton Farms.
Today, Bonton Farms has goats for milk, chickens for eggs and about bees for honey and all kinds of produce, which is farmed without chemicals. The farm sells about 60 percent of its products at Good Local Markets and to restaurants like Café Momentum. The other 40 percent is offered to the neighborhood at low cost. Recently, the farm has expanded to 18 acres down the road, where they will raise 400 additional egg-laying hens and broiler chickens for meat.
While Babcock is Bonton's founder, the farm is run by many people from the neighborhood, including farm manager, Patrick Wright. Many of the men in the community have criminal records, or they have a history with addiction, which severely limits their employability, but they get a second chance at Bonton Farms. Here, they can earn a stipend, gain valuable skills, and build a work history. 
But this is just the beginning – Bonton Farms will eventually have a café and market, where the community can eat healthy meals, as well as gather for health awareness discussions, group exercise and cooking classes. 
"I hope this becomes less a story about a farm and more about a community that has learned about the importance of food and how that translates to quality of life. I hope people are changed for generations to come because of this," concludes Babcock. 
Bonton Farm rows. Photo by Monica Johnson.
---
Sign up for the weekly Green Source DFW Newsletter to stay up to date on everything green in North Texas, the latest news and events. Follow us on Facebook, Twitter and Pinterest.