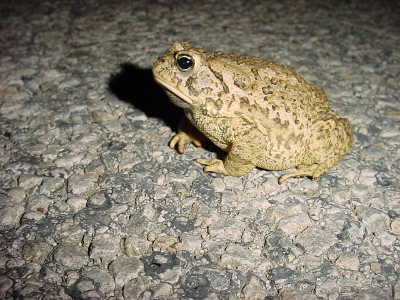 (Photo: A Woodhouse Toad, once abundant in Dallas County, now the subject of envrionmental conservation efforts. Courtesy of Carl Franklin.)    
May 30, 2012
You can still hear them at night, even in the city -- clicking, chirping and croaking. Dating back to the dinosaur age, frogs have served as nature's cheery evening choir for millions of years. But some biologists are worried some frog songs could go silent if steps aren't taken to conserve them.
According to the Texas Parks and Wildlife Department, as many as 40 percent of amphibian species in the Americas are declining, a rate higher than for any birds or mammals. Researchers don't know the extent that frogs are disappearing in Texas, due to lack of historical data. 
However, Carl Franklin, president of the DFW Herpetological Society and biological curator at the Amphibian and Reptile Diversity Research Center at the University of Texas at Arlington, said he has observed an alarming decline among local frog populations. 
"Something is going on that indicates frogs are really taking a whooping," he said. 
Franklin said several toad species once abundant in Dallas County have become scarce. Tarrant County has more diversity due to less development but that is changing.
Dr. David Wojnowski, associate professor at the University of North Texas and president-elect of the Horned Lizard Conservation Society, agreed that frogs are disappearing from developed areas in North Texas.
Wojnowski suspects habitat destruction and habitat fragmentation along with pesticide and herbicide use are causing frog's disappearance in the Metroplex. Meanwhile, invasive species, disease, climate change and overharvesting for the pet and food trades also threaten amphibians worldwide.
Frogs are considered to be good indicators of the overall health of the
environment because of their sensitivity to changes and special requirements. They have permeable skin and shell-less eggs. They need access to puddles, ponds and creeks to reproduce. Some require certain soils to burrow in. Researchers say the decline in frog populations along with an increase in malformations could be an early warning indicator of trouble in the ecosystem.  
(Photo: A Gulf Coast Toad, commonly found in the metroplex. Courtesy of Carl Franklin)
Frogs play an integral role of the food chain, eating a variety of pest insects, including mosquitos. However, Franklin said that fact has so far not been enough to get the attention of the public.
"You can tell people till your blue in the face that they eat bugs," he said. "That doesn't change behavior."
To galvanize amphibian conservation, in 2005, the Global Amphibian Conservation Summit was held in Washington, D.C. where a plan was created for organizations to work together globally.
As part of that effort, the Fort Worth Zoo's curator of ectotherms, Diane Barber, is working to preserve endangered amphibians, including the Houston toad, at the Museum of Living Art, the zoo's state-of-the-art herpetarium.
(Photo: The Red-Spotted Toad is now a rare site in Dallas County. Courtesy of Carl Franklin)
In California, Dr. Kerry Kriger, director of Save the Frogs, oversees a nonprofit dedicated to solely to frogs. He said the nocturnal creatures may have silently slipped from our neighborhoods because they live largely unseen in our surroundings. 
"They only come out on rainy nights," he said. "People don't see them as much as birds."
Kriger aims to shine a light the frog crisis by educating the public, lobbying for laws to protect them and encouraging restaurants and supermarkets to stop selling frog legs. This summer, members of Save the Frogs will be delivering a petition to the Environmental Protection Agency in Washington D.C. asking for a ban on atrazine, one of the most commonly used herbicides in the U.S., which is suspected to harm amphibians.
Those who want to help frogs can volunteer for Frog Watch USA, a program of the American Zoological Association. The program, similar to the national backyard bird counts, relies on citizen scientists to report sightings of frogs in their area and upload findings to a national database. The Texas Parks and Wildlife Department has a similar program called Texas Amphibian Watch.
Mark Pyle, education director for the DFW Herpetological Society, has taught training courses for both programs in previous years. To participate, volunteers must learn a variety of frog calls, which range from a high pitched clacking sound of the cricket frog to the rhythmic baritone of the bullfrog.
Homeowners can also do their part by encouraging frogs to take up residence in their yards. 
You can build a frog pond or create a frog habitat using a upside clay pot. 
With the rise of organizations, such as Save the Frog and Amphibian Ark, Pyle said the frog conservation movement appears to be hopping. He believes there's still hope. 
"People like frogs," said Pyle. "It's a lot easier to get people interested in protecting them than snakes."
---
Stay up to date on everything green in North Texas, including the latest news and events! Sign up for the weekly Green Source DFW Newsletter! Follow us on Facebook and Twitter. Also check out our new podcast The Texas Green Report, available on your favorite podcast app.