Wildbird trainers Lindsey and Simon McNeny share a tiny house with their birds on the property of Rogers Wildlife Rehabilitation Center in Hutchins. Photo courtesy of Kim Louis Design.
April 3, 2017
Little by little the bird makes its nest. - French Proverb.
Peering down from her cozy sleeping loft, wildlife trainer, Lindsey McNeny rubs her eyes and basks in the sweet smell of fresh coffee drifting up from the kitchen just a few feet below her lair. Husband and business partner, Simon, is rustling up some eggs, gathered minutes before from their flock of chickens that roost outside.
Simon and Lindsey show off the living area of their 192-square-foot house. Photo by Andrea Ridout.
It's just another day for this unique couple – which might include a performance of their free-flight raptor bird show, Window to the Wild, at a local event or perhaps it's off to a wedding with their pair of blue and gold mccaws, Walter and Lemmon. 
On a recent trip to Houston, Lindsey spent the day at a small zoo called TGR Exotics, helping them shift bears from one enclosure to another, hand-training their eagles and owls and working with their new Asian small-clawed otters. She also spent time with staffers there, teaching them the importance of positive reinforcement and making sure that the animals enjoy their educational programs as much as the people do.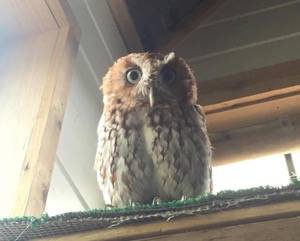 Simon and Lindsey don't just work with birds and other wild creatures – they emulate them. Their tiny house was inspired by the avian habit of collecting – but instead of twigs and grass, the McNeny's "nest" is built of found objects from their life together; lumber from a 1920s railroad car, random cabinet pulls and doorknobs, scraps of fabric and bric-a-brac. 
Pigwidgeon, a screech owl, peers down from a perch in the McNeny's tiny house. Below, bunkmates macaws Walter and Lemmon clown around. Photos courtesy of the McNenys.
The McNeny's share their home with a rather unusual flock; Pigwidgeon the adorable screech owl, Smaug the stern kestrel and Brom the thieving crow. Even fearsome (but friendly) vulture, Gimil, is allowed inside from time to time, though he usually stays nearby in a large flight aviary that accommodates more than two dozen other "family" members.
Even as a small child growing up in Michigan, Lindsey had a passion for wildlife. Soon after college, she was hired as a bird trainer at the famed Natural Encounters, Inc. and was one of the youngest choreographers for their free-flight shows at zoos all around the U.S., including the State Fair of Texas "Birds of the World" program. 
Meanwhile, at the Dallas Zoo, Simon was fulfilling a lifelong dream of working with large mammals such as the unique okapi as well as oryx, bongo and zebra. An Aggie grad with a degree in wildlife science, he was a favorite of zoo visitors as he wove tales of these beautiful creatures into lessons on rehabilitation and habitat conservation.
It is said that birds of a feather flock together so it must have been destiny that Simon and Lindsey would eventually meet at a zoo employee soccer game. Once they realized their shared love of nature, it became obvious that they were a match. It was truly love at first flight. 
Peeves the Pigeon helps Lindsey around the house. Photo courtesy of the McNenys.
After marrying in 2013, Lindsey and Simon launched Window To The Wild the following year, combining her avian choreography and his theatrical flair into a business that not only entertains but also educates. Their mission is to bring positive attention to Texas native species and promote the care and conservation of both the animals and their habitats. 
"We partner with local rehabilitation centers to give homes to animals that cannot be released into the wild," said Lindsey. 
They encourage natural talents such as with their crow who is a born thief. Lindsey has taught Brom to "steal" a dollar bill and tuck it into a lucite bank. Their feathered ambassadors perform at schools, weddings, trade shows and even local retailers – locations that will allow the couple to further their message of ecology and stewardship. 
Aptly named "The Perch," it features strategically placed roosts in each nook and cranny so that the feathered tenants are safe and yet stimulated. 
A favorite venue is the Trinity River Audubon Center, which has room to host several outdoor events each year including Birds & Brew on April 7 featuring Window to the Wild and their free-flight Harris Hawk, Fiernan and Great-Horned Owl, Hermes. It's quite a thrill to see these majestic and powerful creatures soar from Lindsey to Simon in a behavior that is totally natural and stunningly beautiful.
Above, a cozy kitchen. Below, Stone tiles line the bathroom walls. Photos by Andrea Ridout.
So when these love birds decided to hatch a homestead of their own, they wanted it to reflect their ecological mantra. A tiny house made from collected materials seemed like the perfect solution – but where would their birds sleep? 
Enter Kim Lewis Design of Austin. Working directly with Simon and Lindsey and incorporating their collection of baubles, ephemera and whatnots, Kim created a unique 192-square-foot floorplan that allowed for plenty of living space for humans and critters alike. Aptly named "The Perch," Kim strategically placed roosts into each nook and cranny so that the feathered tenants are safe and yet stimulated. 
A comfy sleeping loft (with emergency escape hatch) for the human residents overlooks the main living area that houses a surprisingly roomy country kitchen with full-sized stove, salvaged wooden countertops and brick backsplash. Coarse stone walls highlight the bathroom which sports a composting toilet and water-saving faucet and shower. Puffy pillows and a quirky spate of surplus windows brighten the cozy den flanked by a diminutive staircase. Step outside through a stunning round-topped front door onto a spacious deck with room to entertain and enjoy the Texas sunsets.
The McNeny house features a rear escape hatch. Photo courtesy of Kim Louis Design.
The project was featured on the fyi Network's Tiny House Nation, which also helped with materials and design. Show hosts, Zack Griffin and John Weisbarth, created a pulley system for the deck that simply folds it up when it's time to move – and move it does. The entire 32-foot-long home is cantilevered on a 24-foot gooseneck trailer that can be hauled behind a pickup truck for easy transport. For now, The Perch resides on the 20-acre Rogers Wildlife Rehabilitation Center in Hutchins. Founder and owner, Kathy Rogers, welcomed the couple with open arms. 
"I love having them here," says Rogers. 
The McNeny's goal is to someday acquire their own property and offer rentals of tiny houses, yurts and other alternative abodes so that guests can try them out before committing to these lifestyles.
Peeves the pigeon greets visitors on the McNeny's front porch. Photo courtesy of the McNenys.
"Our vision for the future is to continue to expand our business and reach more people with our educational animals," said Simon. "We also want to teach about living smaller and more sustainably." 
As this day winds down on the McNeny deck, Lindsey hands Simon a tray loaded with nachos and craft beer and they snuggle into homemade chairs that Simon made from discarded lumber. Brom, in crowlike fashion, tries to steal a nacho and Lindsey laughs. 
"It's great to know that this little guy is safe and happy, plus he helps people learn about wildlife." 
Brom seems to agree as he lets out a loud squawk. Simon sums it up. 
"We think it is very important to teach the positive and negative effects we as humans have on nature." 
By bringing nature home, the McNeny's have done just that.
Birds & Brew
About: Craft brew and light bites, plus artists, speakers, games. The McNeny's Window to the Wild will be there with their free-flight Harris Hawk, Fiernan and Great-Horned Owl, Hermes.
Hosted by: The Trinity Audubon Center
When: April 7, 7-10 p.m.
Where: Trinity River Audubon Center, Dallas.
Cost: $40-$45.
---
Stay up to date on everything green in North Texas, including the latest news and events! Sign up for the weekly Green Source DFW Newsletter! Follow us on Facebook, Twitter and Pinterest.