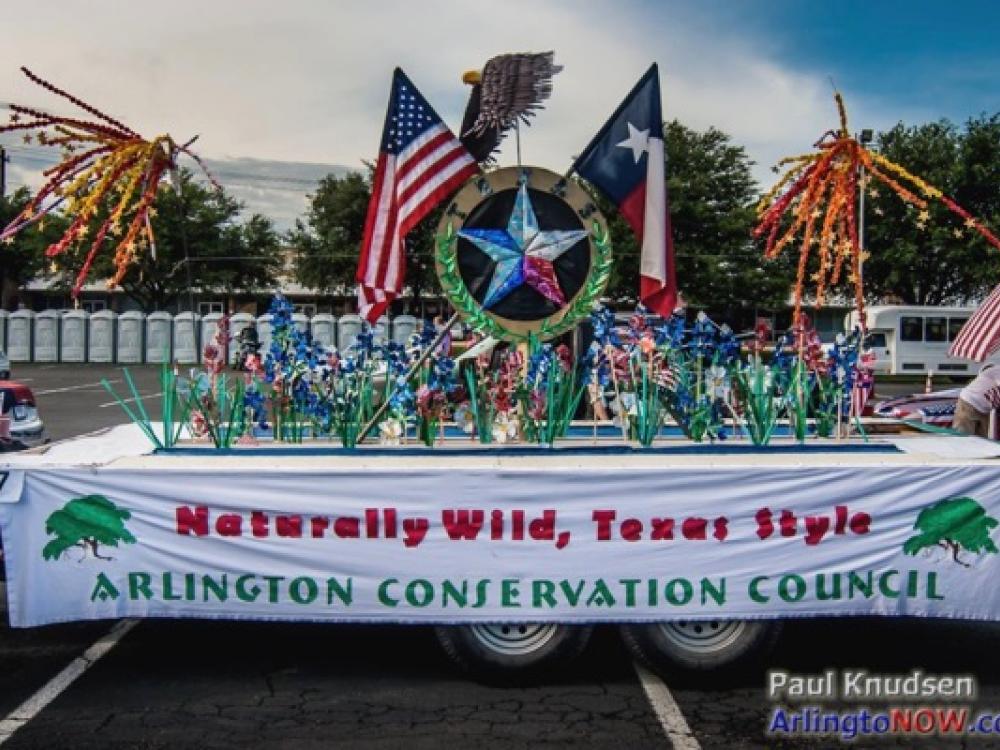 The Arlington Conservation Council won Grand Prize at the Arlington Fourth of July parade with their float featuring native Texas wildflowers made of recycled aluminum cans. Photos courtesy of Paul Knudsen/ArlingtoNow.com
July 10, 2017
The Arlington Conservation Council finally had its day in the sun at the Arlington Fourth of July parade last week. 
Beating out 150 entries, the 40-plus-year-old environmental group took home the Grand Prize at the 52nd annual Arlington July 4th parade. The nonprofit also won for Best Noncommercial Float. 
John Darling, Marian Hiler, Ann Knudsen and Roy Miliner show off Arlington Conservation Council's trophy.
The Arlington treehuggers savored the award after mishaps drizzled on their parade the last two years. 
In 2015, they'd assembled an ambitious bird-themed float featuring all 50 state birds. Each bird was meticulously handmade from old pizza boxes and magazines to resemble artist Charlie Harper's designs. However, their truck battery died just as they were about to depart and the bird float was permanently grounded. Last year, it rained the morning of the parade, soaking their paper butterflies and birds.
This year Marian Hiler, ACC member and creative director for the club's floats, was determined to disaster-proof their design.
After last year's float-drenching rain, the first new rule was "No paper!" joked Hiler.
Indian paintbrushes, bluebonnets and primrose were made from aluminum cans gathered by ACC members.
The conservation group makes a point to use only only recycled, borrowed or scavenged items for their float. So in April, ACC members began gathering more durable materials for the 2017 rollout, namely aluminum cans.
Their design featured a native Texas wildflower-scape with red, white and blue flowers. So the cans, many collected from roadsides, were culled and color-sorted. 
"It's a pretty doggone good medium," said Hiler. "The hardest color to find in cans is, believe it or not, white... and yellow. Reds and blues were fairly easy."
Petals and leaves were traced onto the flattened cans, which were carved into Indian paintbrushes, primroses and bluebonnets and stuck on used straws stems. Above the wildflowers, hung stars cut from plastic ice cream container lids.
Marian Hiler's sister and ACC member Ann Knudsen traces flower petals on the flattened cans.
Yellow, orange and red bottlecaps, each drilled and strung on straightened wire hangers, created festive fireworks bursts. Green strapping stood in for the grass.
Flying on top, was a bald eagle crafted with a plastic bottle for the body, plastic utensils for feathers and hummus container lids bent to form a beak.
It took three days to assemble the pieces and Hiler feared that the detailed process was too much for the crew.
But their hard work paid off, charming parade goers and judges alike and putting the group's eco-friendly mission in the spotlight.
The eagle was made using a plastic bottle for the body, plastic utensils for the feathers and plastic lids for the beak.​
"The original reason we started getting into the parade was to promote ACC so more people would know about us," said Hiler. "When they said we won the grand prize, I never dreamed this would happen."
RELATED ARTICLES
Arlington Conservation Council's upcycled bird float misses flight in Fourth parade
Arlington Conservation Council cruises parade in solar-powered upcycled float