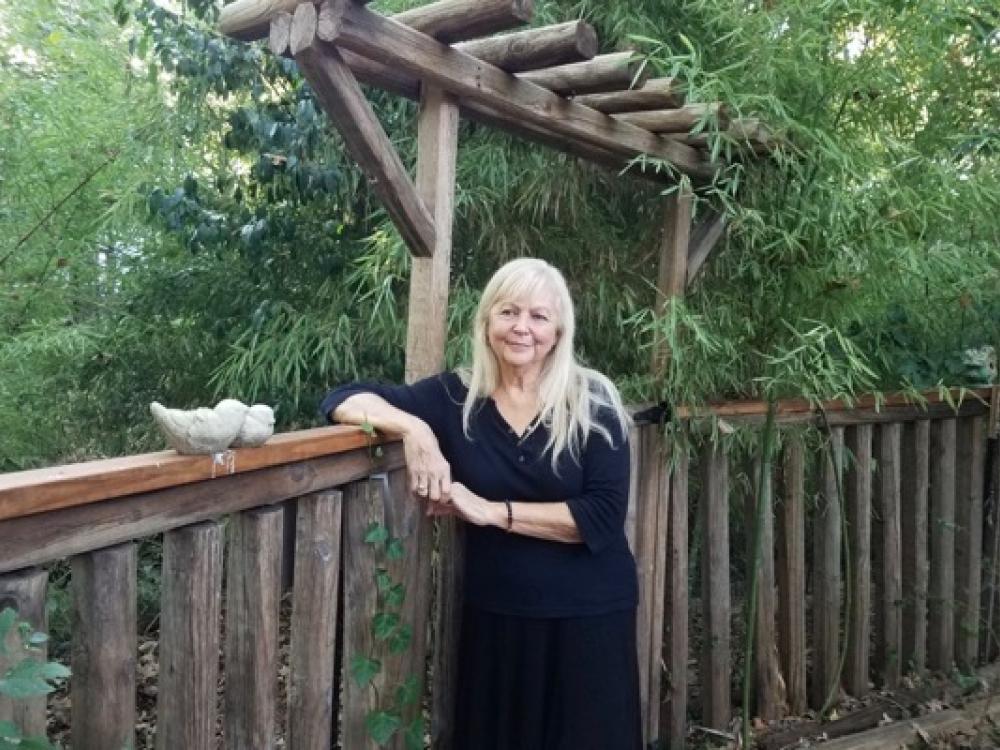 Tammie Carson enjoys her backyard fence, which she stands to lose in the Kee Branch creek restructuring. Photos by Shirley Jinkins.
Sept. 27, 2019
Tammie Carson loves introducing guests to her backyard haven, distinguished with dozens of native trees, plants and birds. 
"It's like a forest out here, so nice," she said during a recent visit. 
A 30-foot cottonwood tree, her favorite, "sounds like water when the breeze blows."
But now, the City of Arlington's plans for reconstructing the Kee Branch tributary behind her Lansingford Trail home in south Arlington could turn her sanctuary into a smaller, less shady plot of land.
Carson said she stands to lose about 25 feet of back yard across the entire 120-foot width of her land, along with her fence and retaining wall. She will also lose nine mature trees, including the cottonwood. The trees would be replaced, but with smaller, younger ones.
Kee Branch is a tributary of the Rush Creek water system in Arlington. It and the Johnson Creek system are prone to flooding.
Carson said she stands to lose eight feet of deck and 25 feet of back yard across the entire 120-foot width of her land. She will also lose nine mature trees, including the cottonwood. The trees would be replaced, but with smaller, younger ones.
The city's plan for the area calls for the removal of some 240 trees in all. Seventy-three homes would be affected, losing land along the creek bank as well as trees and other natural vegetation. Fences, decking, sheds and other structures would go, too, if they are in the way of the city's easements.
The Arlington Conservation Council, a 50-year-old environmental advocacy group, has taken a position against the creek's planned engineering, according to Grace Darling, a long-time member. ACC recently sent a letter to the Mayor and City Council expressing concern over the project and other instances of imprudent tree removal.
"We believe it's an ecologically destructive, ineffective,and expensive band-aid 'solution' to a systemic watershed problem that started many years ago with injudicious construction too close to the banks upstream, and was allowed to continue in the ensuing decades," said Darling. "Like Tammie Carson's experience, our pleas to city leaders apparently have fallen on deaf ears."
The new stream bed will be raised, widened slightly and use logs from the harvested trees as well as rocks to stabilize it.
City planners say the Kee Branch Tributary 4 erosion project covers an area of moderately unstable" creek in South Arlington, about 2,900 linear feet from Deaver Park (Bradley Lane) to Andalusia Trail. This is one of three areas included in the city's overall project scope. The city says runoff has degraded the stream in certain areas, causing erosion of stream banks, loss of land and fallen trees.
Stantec Consulting Services already has been engaged by the city due to its record of stream restoration and creek modeling, but response to community concerns have slowed the project. 
Mindy Carmichael, the city's director of public works and transportation, said the city sent out rounds of survey letters to residents and had one-on-one meetings at homeowners' properties before the town hall. The department will report back to the City Council on support and opposition to the project before any work begins.
Carson stands to be the resident who will be most affected by the plan. She has been in her home for 30 years.
A town hall meeting was held in the district earlier this month to further inform residents and answer their questions.
About 35 people showed up to look at maps and view the city's presentation.
Lee Jeffrey, a stormwater civil engineer with the city, said the condition of many of the existing trees along the creekbank is precarious. 
"Trees that look healthy at the top, their bottoms are washed out, exposing the roots," he said.
Eventually those trees would lose their grip and fall into the creek.
"When they go, they will pull the roots with them and then the creek bank is pulled away with them," Jeffrey said.
Tammie Carson and her dog Baby enjoy the banks of Kee Branch tributary which runs behind Carson's house.
The stream bed will be improved and raised up, using logs from the felled trees to stabilize it and support water flow. New plants will be brought in, creating more diversity in plant life of the creek.
"We do realize there are a lot of issues here," Jeffrey said, adding that the city would be seeking four new easements in addition to those they already have.
It has always been Arlington landowners' responsibility to take care of the 141 miles of natural creekbank in the city. In Carson's case, she had rock-filled gabions put in to stabilize the creek along her yard years ago, and took out a second mortgage on her house to do so.
A majority seemed to favor the plan, but many still had reservations about disturbing the creek environment and the plan's ambitious scope.
Cecilia Cardenas has lived on Lordsburg Trail since 2000. 
"I'd like to see a cleaned-up version of what we have now," she said.
"It could come down to homeowners having to ask (the city) before they could do anything to their own property," said her neighbor Barbara Russell.
The women were more concerned with the fate of the creek's wildlife, which includes turtles, raccoons and opossums.
"I don't mind these animals at all," Cardenas said.
"I see it (the plan) as a good thing." said Jackie Pennington, who has lived on Parliament Trail for a decade. "I've seen erosion at the creek."
She planted bamboo across the back of her lot to hold the soil, and said her small yard is mostly decking. 
"Other than the bamboo, I've done nothing to prevent it (erosion.)"
Some homeowners are concerned about the restructuring's effect on the creek's wildlife.
"I don't think it's the right solution, for more reasons than you have time to hear," said Lansingford Trail resident D.J. Schoneweiss, as she hurriedly left the meeting.
Sherry Capehart, who represents the district on the City Council, favors the plan.
"It'll help in a lot of ways," she said, "erosion on people's property, better drainage, a cleaner creek that's better for the environment. And of course, you've got to protect (from flooding) the houses first."
---
Stay up to date on everything green in North Texas, including the latest news and events! Sign up for the weekly Green Source DFW Newsletter! Follow us on Facebook and Twitter. Also check out our new podcast The Texas Green Report, available on your favorite podcast app.