Arlington Conservation Council volunteers pose in front of their state bird float. The birds were made from old pizza boxes and magazines. Photos courtesy of Paul Knudsen.
July 14, 2015
Every year, the Arlington Conservation Council trys to top themselves with their creative floats bearing sustainable themes for the Arlington Fourth of July parade. 
Last July, ACC rolled through downtown Arlington with real solar panels powering their sound system and a working wind turbine, touting renewable energy.
Unfortunately this year's float played its swan song before ever leaving the parking lot.
The 40-plus-year-old environmental group started out with a grand idea to complement the parade's 50th anniversary. 
In keeping with the 50 theme, longtime ACC member Marian Hiler suggested depicting all 50 state birds. It was a timely topic with recent reports showing the decline of many U.S. backyard birds.
As in year's past, the conservationists didn't want to buy any new materials for their creation. To set an example, they prefer using only borrowed, found and scavenged items. 
In addition, they wanted to recycle the float after the parade was over. That meant they couldn't use paint to illustrate the birds.
"We found out the hard way, you can't recycle used cardboard that's been painted," said Hiler.
So instead they used old magazine pages to fill in the feathers.
They modeled the birds on famed illustrator's Charley Harper's geometric bird paintings.
Using his illustrations as a guide, Hiler drew outlines of all 50 state birds plus a bald eagle with computer software. She printed them out on paper and traced the outlines on old pizza boxes. 
"Volunteers helped cut them out and looked through magazines for the right colors," said Hiler. 
Meanwhile, Hiler's sister, Ann Knudsen, drew a paint-by-number design on the cardboard and she and volunteers filled in the color with magazine clippings.
Hiler said she learned a lot about birds during the process. They were able to find most of the birds among Harper's works. However, they had to wing it with obscure birds such as Hawaii's endangered nene and Alaska's willow ptarmigan.
And while many states have opted for such popular birds as cardinals and bluebirds, Hiler said was surprised to learn that two states had chickens as their official state bird – the Rhode Island Red rooster and Delaware's Blue Hen.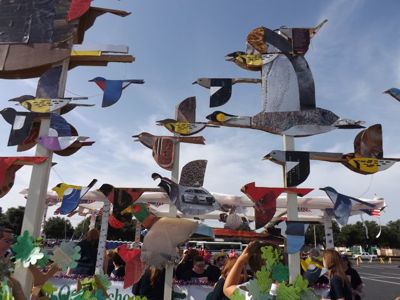 With nearly 20 volunteers, they worked for a month on their flock.
But despite its wing power, the float never got off the ground. 
Out of 150 entries, the ACC float was about 20 from the end. When it came time for the group to peal off into the parade, they discovered the batteries of the truck that was supposed to pull the trailer were dead and couldn't be revived despite attempts to resuscitate it.
"We tried to get another truck but by the time the truck did get there the parade had literally passed by us by," said Hiler.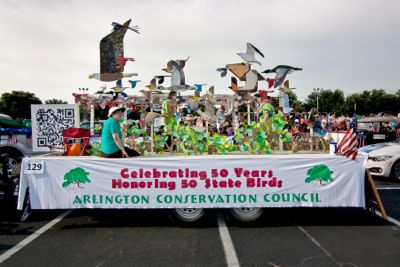 The birds never got their day in the sun.
"It was disappointing," said Hiler. "I think I would have been brokenhearted if it had rained. That was my biggest fear." 
As it is, some of the birds will be salvaged and like the phoenix may rise again for another parade. 
"That's the fun of doing a float every year," said Hiler. "We try to use some of things that we've used before."
---
Sign up for the weekly Green Source DFW Newsletter to stay up to date on everything green in North Texas, the latest news and events. Follow us on Facebook, Twitter and Pinterest.