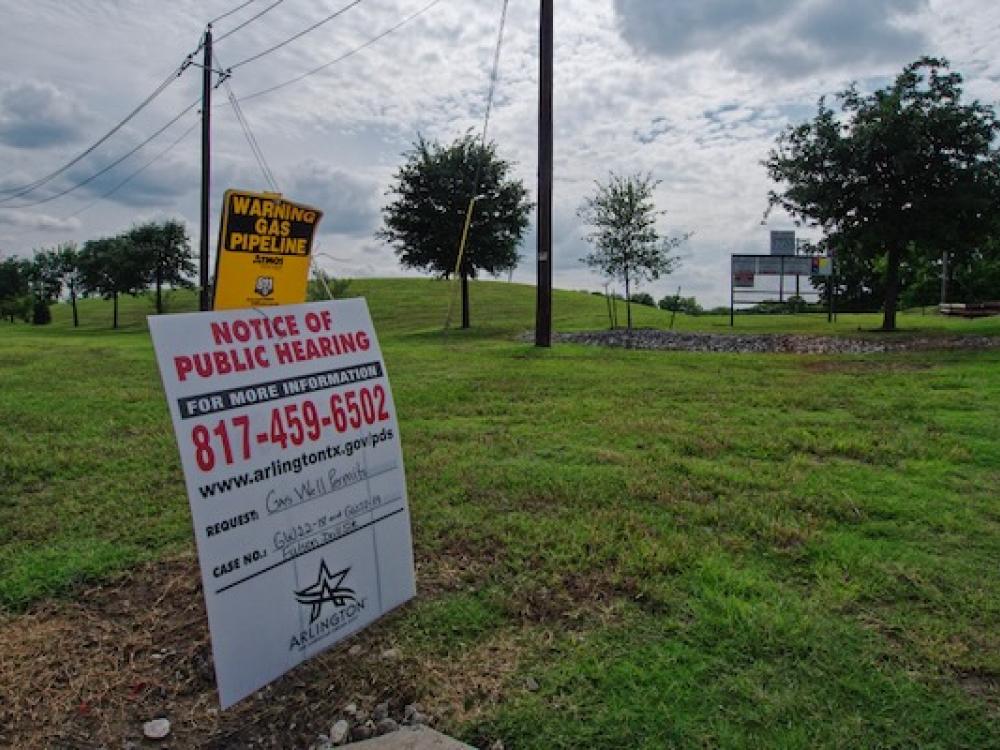 Dozens of residents registered their opposition to the permit, but council members claimed their hands are tied. Above, A public hearing notice is posted next to the Fulson drilling site at 5720 S. Watson Road in Arlington​. Photo by J.G. Domke/Green Source DFW.
By Dylan Baddour and Martha Pskowski, Inside Climate News
This article originally appeared on Inside Climate News, a nonprofit, independent news organization that covers climate, energy and the environment. It is republished with permission. Sign up for their newsletter here. 
June 2, 2023
Last week, the Arlington City Council authorized the creation of a new zone for drilling and fracking in a residential area, despite objections from neighbors in the North Texas suburb.
It was the first time in nearly five years that Arlington established a new "drill zone," according to the city's planning department. Once drill zones are established, wells can be administratively approved without a public process. 
The May 23 vote marked a major victory for French energy giant TotalEnergies and its North Texas subsidiary, Total E&P Barnett USA, which had tried and failed repeatedly in recent years to win the establishment of new drill zones in Arlington. 
At the evening council meeting last week, more than 20 people spoke in opposition to the permit, including attorneys, advocates and Arlington residents. They raised concerns regarding the site's proximity to two schools and the impact of fracking on local air and water. Application materials said the drilling zone was 600 feet from the nearest home and 2,000 feet from the nearest school. 
"Gas wells don't belong in neighborhoods," Arlington resident Jane Lynn told the council. 
One attorney noted that the practice of horizontal drilling without consent from mineral owners — a common practice in fracking — was declared illegal by a Texas trial court in 2021 and is currently under appeal. 
However, the city attorney said these concerns were not grounds for the city to reject the permit, citing a 2015 state law known as HB 40 that preempts Texas cities from regulating drilling activities except in specific instances.
"The state of Texas has pointed a gun at this city's head," said council member Andrew Piel, before voting to approve the permit. 
Council members voted 8-1 in favor of the new drill zone at the Fulson drilling site at 5720 S. Watson Road in Arlington. City council member Nikkie Hunter of District 3 was the dissenting vote. The measure still requires a second approval expected to take place June 13 before a permit is issued. 
TWENTY YEARS OF FRACKING 
A for-sale sign is posted next to the Fulson drilling site at 5720 S. Watson Road in Arlington​. Photo by J.G. Domke/Green Source DFW
Two decades have passed since the world's first fracking boom started in North Texas and the sprawling suburb of Arlington became infamous for drilling sites adjacent to homes, schools and a daycare. Tarrant County has more people living near oil and gas productions sites than any other U.S. county except Los Angeles. 
Gas production here peaked more than a decade ago and the Barnett Shale is no longer a major player in the U.S. gas sector. Drilling persists, however, as new fracked gas wells continue to crop up, almost all of them owned by Total, a company based in France, where fracking is illegal.   
Texas Railroad Commission records show 53 new drilling permits approved in Tarrant County since the start of last year, 50 of them owned by Total. 
At the council meeting on Tuesday, TotalEnergies E&P Barnett CEO Dave Leopold responded to concerns over public health saying that stories of pollution and contamination from other major U.S. shale plays don't apply to the Barnett in North Texas. 
"What happens in the Barnett is not what happens in the Eagle Ford or the Marcellus," he said, referring to gas-rich shale formations in south Texas and Pennsylvania. "You're thrown a lot of things that scare you to death and they don't apply here. It's apples and oranges."
UNDER JUDICIAL REVIEW
Chrysta Castañeda, an oil and gas attorney in Dallas who was hired by opponents of the new wells, told the council that Total's well permits relied on a legal model that has been declared illegal by a Texas trial court and is currently under review after an appeal by the Texas' oilfield regulator, the Texas Railroad Commission. 
So-called "allocation wells" allow oil companies to drill horizontally under other landowners' property and take their minerals without consent. 
Records filed with the Railroad Commission show more than 50 tracts with unleased mineral rights in the path of one horizontal well proposed by Total. 
"Mineral interests are property rights. They cannot be taken without the owners' consent," Castañeda said. "These principles have their footing in the Texas Constitution and the Texas Railroad Commission cannot declare otherwise."
In each permit for an allocation well, the Railroad Commission notes that it makes no determination on whether or not drillers have a right to the minerals they seek. 
"Commission Staff expresses no opinion as to whether a 100 percent ownership interest in each of the leases alone… confers the right to drill across lease/unit lines," the commission wrote in Total's drilling permit.
It defers that determination "until that issue is directly addressed and ruled upon by a Texas court."
That happened when a district court ruled in 2021 that the practice was unlawful. It followed a 2019 complaint by West Texas landowners who said minerals were taken without their consent.  
"Mineral owner consent has always been a prerequisite for the permitting of any well that crosses separate tracts until the RRC recently decided, without rule or explanation, that it was not," wrote the Texas Land and Mineral Owners Association in support of the complaint brought by West Texas landowners. 
A district court in Austin ruled that the Railroad Commission did not have authority to approve permits for allocation wells and said it should review lease agreements to verify operators' right to drill.
The RRC appealed the decision, arguing that its new model for royalty allocation was crucial for the proliferation of long-range horizontal drilling, which has driven almost 20 years of economic boom in Texas. Applying "inappropriate" legal standards designed for vertical wells would discourage the use of an important technology, the Commission argued. 
The Texas Oil and Gas Association, supporting the Railroad Commission, filed a brief last year arguing the district court's ruling threatened to undermine the continued expansion of fracking. 
The association wrote that an affirmation of the trial court's ruling would "call into question the legality of every existing" allocation well and "cast doubt on the legality of such permits issued by the RRC in the future." 
At city hall on Tuesday night, Castañeda asked the city to delay its decision until the appeals court issued its ruling and clarified the legality of allocation wells. 
Ranjana Bhandari, executive director of the environmental advocacy group Liveable Arlington, said that using allocation wells allowed Total to drill into adjacent tracts where they don't have production sharing agreements and would otherwise need more permits to drill. 
"They'll be drilling into places where normally they would have had to get another permit," Bhandari said. "They are cheating on the permit by using allocation wells. They are getting away with using fewer permits than they should."
Martha Pskowski of Inside Climate News contributed to this report.
RELATED ARTICLES
Arlington activists push back on new gas drilling
Arlington denies gas well permit after activists file lawsuit
Drill site near Arlington preschool shut down
New drilling should require public input, says Arlington group
New gas wells denied in east Arlington
Portable air monitors are latest tool for North Texas activists
---
Stay up to date on everything green in North Texas, including the latest news and events! Sign up for the weekly Green Source DFW Newsletter! Follow us on Facebook and Twitter. Also check out our new podcast The Texas Green Report, available on your favorite podcast app.