By Julie Thibodeaux      
Architect Gary Olp said he was a nature lover as a boy but a high school science teacher opened his eyes to sustainability. It was the 1970s, and his long-haired, bearded biology teacher in Ohio invited the class to organize a "no-waste" party.     
"We went out and collected roots, herbs and sunflower seeds. We made ice cream from raw milk. We used no paper plates. Nothing was thrown away, everything was composted."    

That concept of zero waste and returning to basics stuck with him as he pursued a degree in architecture from the University of Cincinnati. There he discovered nature-loving architects like Frank Lloyd Wright, whose buildings were wedded to the site, and Malcolm Wells, who was designing underground houses. Together, these experiences influenced him to forge a niche in green architecture.    
Today the Dallas-based architect is influencing others through his sustainable designs -- notably with the opening of the Environmental Education Center in Plano.     
Heather Merchant, head of environmental education for the city of Plano, said the city has been teaching environmental classes since 1994. The success of the recycling and composting outreach programs spurred them to expand. 
"We kept growing our program," said Merchant.     
Eventually the Department of Solid Waste became the Department of Sustainability and Environmental Services. They expanded the curriculum to include energy efficiency, water conservation and air quality.      
With the program's growing popularity, they realized they needed a dedicated building to host classes. Merchant said from the beginning she'd envisioned a green facility where children and adults could see what sustainable living looked like.   
 "A lot of what we do is try to change behavior," said Merchant. "Everything from energy efficiency to water conservation -- so much of it happens in the home."     
When they were searching for an architect, Olp's name immediately came up. The founder of GGO Architects had been designing green buildings since 1987 as one of the first green architects in North Texas.      
T
oday, the $1.2 million Plano facility designed by Olp is a model of sustainability, earning the platinum LEED rating, the highest awarded by the U.S. Green Building Council.  The building was finished last spring, however the grand opening wasn't held until this May after the landscaping was completed. 
The most lauded sustainable features of the building are in its energy conservation design. A rainwater collection system harvests 25,000 gallons of water for flushing toilets and irrigating the living roof and the native plant demonstration garden. In addition, a wind turbine and solar panels generate enough energy to power the building with some excess.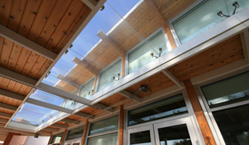 The building was carefully sited to maximize use of natural lighting and designed to reduce light pollution. Low VOC materials and countertops made from recyclables finish out the rooms.     
Outside, old cottonwood and black willow trees were preserved and the creek was protected during the construction phase.     
Olp said green buildings are not just about protecting our resources but improving our quality of life.      
"Everything we do from a sustainable building standpoint tracks right back to our health," he said. 
Using less toxic paints and flooring creates a healthier interior physical environment. Designing the building to be more energy efficient reduces pollution-emissions and greenhouse gases down the line, creating a healthier outer environment.     
Olp urges all to take responsibility for their effect on the world, starting with adopting green construction practices.   
 "The Earth doesn't have an environmental problem. We do. If humans were wiped out, Earth would be paradise again."     
Since opening, the building has been a hit with Plano residents. Its educational programs continue to flourish in the new venue. Last year, the city hosted more than 500 programs with a total audience of more than 39,000 residents. The city is gearing up to market the building as a rental site for receptions and parties.
"It's fabulous," said Merchant. "I can't think of anybody who didn't think it was a wonderful building."  
Photo: Gary Olp and Environmental Education Center in Plano, courtesy of GGO Architects.
Photo: Cistern at the Environmental Education Center, courtesy of the city of Plano.  
---
Sign up for the weekly Green Source DFW Newsletter to stay up to date on everything green in North Texas, the latest news and events.
Julie Thibodeaux is a Fort Worth-based writer covering environmental issues, green topics and sustainable living. Previously, she worked as an editor and writer at the Fort Worth Star-Telegram. Contact her at julie@jthibodeaux.com.