By Teresa Mioli    
A line of students, faculty and staff clad in green snaked towards the cafeteria and waited for the cashier to swipe their card before sitting down to lunch.   It was a normal start to the school year save for one big change to the college dining experience: there would be no meat, dairy or eggs on the menu.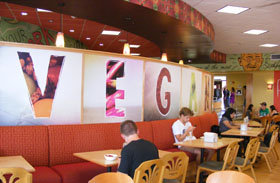 Dining services at the University of North Texas are making waves in Denton and beyond with the opening of an all- vegan dining hall on campus.  Ken Botts, director of special projects for dining services at UNT, said the idea for a vegan dining hall began about a year ago after staff started hearing from students.  "The feedback that we heard loud and clear… we want healthier options on campus, we want vegetarian or vegan options on campus," Botts said. (photo credit Teresa Mioli)

After initial attempts to highlight existing vegetarian and vegan options on campus and adding a vegan hot food line at one of the dining halls, university dining services decided to take the plunge into an all-vegan dining hall called Mean Greens.   The hall serves fresh herbs, vegetables, fruits, beans and whole grains, according to the university website. Vegan menu items include jambalaya, sushi, dairy-free macaroni and cheese, black forest cake and soy frozen yogurt. A Panini bar is also popular among the students.
"I think we're a little ahead of the curve as far as the industry is concerned on doing this because nobody else has done it before," said Botts.  There is an argument for sustainability in the vegan lifestyle. "The amount of time it takes to produce the amount of meat that the average American eats, there's a lot more time invested there, there's a lot more resources in terms of environmental, economic resources, food resources, there's a lot more that goes into producing that plate of beef," said Mendie Schmidt, UNT assistant director of sustainability for outreach.
With about 36,000 students on campus, Botts said that the university's size made a vegan dining hall possible.  "We have five dining halls on this campus and most campuses our size only have two dining halls so to take one of their dining halls and make it completely vegan is not an option," said Botts. Mean Greens serves about 4,500 people a day.
"We're not trying to convert people to veganism. All we're doing is trying to look to our students, and I think successfully doing so, in providing a healthier dining option. What we do know is that everybody at some point in their day eats vegetables and a lot of them. What we also know is that not everybody everyday only eats meat," said Botts.
According to the Center for Disease Control, an average of 42.3 percent of Texans between the ages of 18 to 24 eat fruit and vegetables once or twice a day and an average of 31.7 percent eat them three or four times a day.  A 2008 Harris Interactive Service Bureau poll found that about 1 million U.S. adults are vegan, according to Vegetarian Times. A 2011 Harris poll found that 20 percent of U.S. adults rated vegan as important when making food and beverage purchases.
First year student Brittaney Freiheit likes the fare at Mean Greens so much that she brought her dad to lunch on Friday.  "Everything just tastes fresh here," said Freiheit, who is not vegan but said she was "jazzed" about the cafeteria before coming to school this semester.  Junior Alejandro Palma said he misses the meat at the cafeteria, but likes the all-fruit breakfast and thinks the food is still good.  However, he said the change may be unfair to people who live near the dining hall and don't want the vegan lifestyle. Other dining halls on campus feature meat-based meals, said Botts.
Diners pay about $7 to eat at Mean Greens, which Botts said is equivalent to prices at other university dining halls. He said that while the ingredients to make the meals are more expensive, the system is absorbing the cost elsewhere with changes to other operational costs. For example, dining services has decreased the number of food truck deliveries each week and a trayless system is in place at the vegan dining hall.
The university's new dining hall has garnered national attention from news organizations like Reuters and ABC News, which have focused on the novelty of a university vegan dining hall in a state known for beef. But for those familiar with the North Texas city and university, the new dining hall might not be as big a shock.  "I think Denton is a little more eclectic and kind of ahead of the curve from a culinary standpoint that way," said Botts.
Mean Greens, located near the intersection of Maple Street and Avenue C in Denton, is open to the community. For more information, visit http://dining.unt.edu/dininghalls/meangreens.html.