The Clean Water Fund's DFW office is hosting its Summer Splash June 21 at Stoney's Wine Lounge in Dallas. Courtesy of the Brazos River Authority.
June 13, 2017
Kick off the summer by supporting a local water watchdog group at a fundraiser at a Dallas wine bar next week. 
The DFW office of the Clean Water Fund is hosting Summer Splash June 21, from 5:30 p.m. to 8 p.m. at Stoney's Wine Lounge in Dallas.
Rita Beving, North Texas outreach coordinator for the D.C.-based Clean Water Fund, said she's already been involved in major water battles on behalf of CWF since being hired in 2015. Last year, Beving along with geologist Gerald Bartz spearheaded a successful campaign to stop the Bureau of Land Management from licensing fracking next to Lake Lewisville. This year, CWF is working with a local coalition to keep a disposal well from being built next to Lake Arlington.
Along with these high profile campaigns, one of the primary focuses of CWF's Carrollton office is water conservation education. Last year, Beving organized an ambitious water conservation conference in Addison, featuring nationally known industry experts. In addition, thoughout the year, she travels to clubs, home owners associations and municipalities giving presentations on where our water comes from, where it goes and practical things we can do to conserve it.
According to Beving, DFW is one of the biggest water users in the state. She said we should be doing more to conserve water instead of relying on more reservoirs to be built.
"Water is not an infinite resource and we need to start realizing that," said Beving. "There's going to be a time when rivers cannot recharge. We can't dam our way out of this so to speak."
She added that people in East Texas are often devasted when their land is taken up to build more lakes to serve a wasteful metropolitan area a hundred miles away.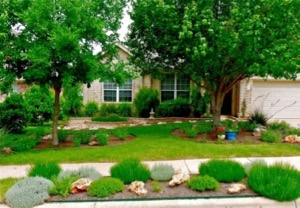 "When they see what our water usage is, they resent it."
Half of our water goes to watering our lawns. Yet North Texas cities are not consistent when it comes to water conservation policies. 
A xeriscaped lawn that requires less water. Courtesy of Clean Water Fund.
"People are shocked to learn that some cities like Farmers Branch and Addison are required to do nothing when it comes to water conservation," she said. 
She believes North Texas should adopt a blanket water conservation policy that includes such sensible practices such as prohibiting watering between 10 a.m. and 6 p.m., when water is more likely to evaporate, and limiting watering to certain days of the week.
Other things we can do to conserve water include xeriscaping so that our lawns require less water and converting toilets and shower heads to more water efficient models.
She added the cost of water will ultimately convince many North Texans to change.
"People's water bills are going to go up every single year for the next 5 years in every city in DFW," said Beving. "There's a monetary reason to conserve water, which sometimes is the biggest incentive." 
Summer Splash
About: Fundraiser for the Clean Water Fund's DFW office
When: June 21, 5:30 p.m. to 8 p.m.
Where: Stoney's Wine Lounge, 6038 Oram St., Dallas.
Cost: $30/single; $50/pair. If you can't attend the Summer Splash, your donation will help support local water conservation outreach programs.
RSVP: Rita Beving, Rita.Beving@gmail.com or 214-557-2271.
Also If you are interested in hosting a water conservation presentation, contact Beving.
RELATED ARTICLES
Drilling lease cancelled at Lake Lewisville
North Texans push back against fracking at Lake Lewisville
Environmentalists, cities push back against proposed disposal well near Lake Arlington
Water conference to address supply challenges, solutions for North Texans
---
Stay up to date on everything green in North Texas, including the latest news and events! Sign up for the weekly Green Source DFW Newsletter! Follow us on Facebook, Twitter and Pinterest.