Oct. 1, 2012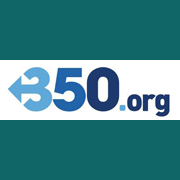 When 350.org invited people around the world to participate in a climate change action day last spring, Waxahachie resident Marshall Hinsley wanted to join in. He searched the website of the international environmental organization formed to bring awareness to global warming but the closest chapter of the group was in Austin.     
"I didn't want to see Dallas not on the map," said the 42-year-old UTA English graduate. 
So he contacted 350.org's headquarters, and they put him in touch with other Dallas-area residents interested in the cause. That's how the environmental group 350 Dallas was born.   
The name of the organization refers to what many scientists call the "safe" level of carbon dioxide in the atmosphere, 350 parts per million. The National Oceanic and Atmospheric Administration scientists are among the experts who say that global warming is caused by the rise of greenhouse gases, primarily carbon dioxide. The burning of fossil fuels, such as oil, coal and gas, is considered to be the most significant source of CO2, which traps heat in the atmosphere. According to NOAA, the average CO2 level in 2011 worldwide was 390 ppm, and the agency predicts it will increase to 400 by 2016.    
And while support for the theory is rising, many still see the consequences as far off. The theme of the action day was to show how climate change is affecting local communities right now. Hinsley, who produces multi-media promotional material for non-profits, came up with the idea to create a short film about how global warming has already impacted Dallas.     
"It's alway been hot in Texas but not this hot," said Hinsley. "We wanted to show people that the weather patterns we're seeing is not the way it's always been."     
Tracking average temperatures from 1902 to 2011, he documented the rise in 100-degree days. Over the last 110 years, the average number of 100-plus-degree days in Texas grew from 8 days a year in the early 1900s to 24 per year in the last decade. The increase mirrors NOAA's conclusions that temperatures have risen steadily since the onset of the Second Industrial Revolution around 1860.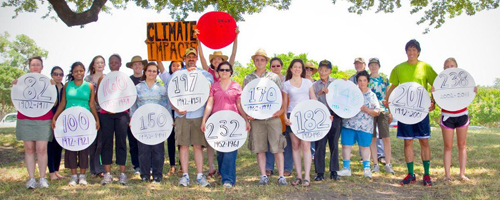 After gathering more data, Hinsley arranged to meet the more than 20 volunteers at White Rock Lake to do the filming in May. Armed with Hinsley's script, the group created posters and props and planned how to "act" out the dialogue. 
"Marshall did a great job of getting everybody to participate," said Alissa Pearce, a 42-year-old literacy specialist in Plano ISD.  
The participants, who ranged in age from high school students to retirees, included some veteran environmental activists.     
Molly Rooke, a Dallas Sierra Club issue coordinator, has spent more than two decades supporting local causes from petitioning the city to start curbside recycling to lobbying the EPA for clean air. She said she's participated in several climate change rallies spearheaded by 350.org and its predecessor, Step it Up, both founded by Bill McKibben.       Rooke said the first event she participated in 2007 in Dallas drew more than 100 volunteers and featured speakers on renewable energy, a screening of the Al Gore documentary An Inconvenient Truth and elected officials making statements. That event drew some media attention, but she admitted rallies in the following years went largely unnoticed.
That's why she said making the film with 350 Dallas this year may have a more lasting effect than previous demonstrations. 
Their protest lives on in Hinsley's polished documentary and the 350.org website. 
"If you can't get the media, at least you can get your own story out," she said. 
Susan and Jack Cooper, a retired Dallas couple who've been Dallas Sierra Club activists since the 1990s, also came out to be part of the film. 
"Dallas has a lot of very committed environmentalists," said Susan Cooper, a former bar mitzvah tutor. "I was glad to participate. We believe global warming is real."       
Jamie Henn, communications director for 350.org at its headquarters in Oakland, Calif., said there are hundreds of local chapters of the organization across the U.S. He expects more global action days to be announced in the coming months. 
Pearce said although the group hasn't planned any additional actions yet, she said there is still momentum. 
"I believe very strongly that we Americans are doing significant damage to the planet," said Pearce. "If you're aware of [global warming] and you're able to participate in something like this, I believe it behooves us to do so." 
See the group's video.
---
Stay up to date on everything green in North Texas, including the latest news and events! Sign up for the weekly Green Source DFW Newsletter! Follow us on Facebook and Twitter. Also check out our new podcast The Texas Green Report, available on your favorite podcast app.